Former Scottish Secretary Bruce Millan dies aged 85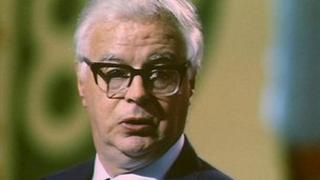 Former Scottish Secretary and European Commissioner Bruce Millan has died at the age of 85.
Mr Millan's family paid tribute to a "wonderful, caring father" who died on Thursday after being recently diagnosed with cancer.
The Labour politician was born in Dundee and served as an MP in Glasgow for 29 years before taking up a role in Brussels until 1995.
Mr Millan is survived by his wife, son and daughter.
His son Mark, 56, said: "He always found the right balance for political commitments and his love and care for his family.
"He was very much involved and generous with his family and his time. He was a great dad."
Tribute was also paid by Scottish Labour's Lord Foulkes of Cumnock, who said: "Bruce was someone of whom the Labour Party should be very proud. He was a great public servant and a very modest man.
"He served with great distinction as Secretary of State and as a European Commissioner and he will be very sadly missed by all of us within the Labour family."
Leader of the Labour Party Ed Miliband said: "Bruce Millan dedicated his life to service of our country and the Labour Party. I am very sad to hear news of his passing."
He added: "Our thoughts are with his family, he will be missed by many friends in the Labour Party."
'Distinguished career'
First Minister Alex Salmond said his thoughts and condolences were with Mr Millan's wife, family and friends "at this sad time".
He added: "Bruce was dedicated to public life, serving Scotland as a respected parliamentarian and as commissioner in Europe.
"As Scottish secretary in the Callaghan government, his distinguished career spanned major political events in modern Scottish history.
"He was held in high regard across the political spectrum, and will be missed by his many friends and colleagues."
Former Prime Minister Gordon Brown also paid tribute to Mr Millan.
He said: "As Secretary of State for Scotland in the 1970s, he fought hard to combat unemployment in Scotland and will be remembered as a leader who never sought titles or status for himself but wanted to be judged by how he contributed to the reduction of poverty. Our thoughts are with his family".
Scottish Secretary Michael Moore said Mr Millan was "a distinguished secretary of state who served his country in both Scottish and European politics and has a lasting legacy".
Mr Millan was first elected to represent Glasgow Craigton in 1959 and went on to serve in both the Wilson and Callaghan governments.
After that Glasgow Craigton seat was abolished Mr Millan went on to represent Glasgow Govan at Westminster until 1988.
The SNP's Jim Sillars took the seat in the by-election which followed his departure.
Mr Millan then took up the role of European Commissioner for Regional Policy and Cohesion.
He also chaired the Millan Committee, which proposed reforms to mental healthcare in Scotland.