Audience plea for TV debate programme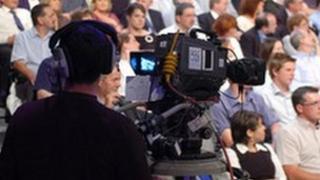 The BBC's Newsnight Scotland programme is appealing for members of the public to join its audience for a debate on the place of religion in modern Scotland.
The programme will examine the religious, ethical and moral landscape of Scotland.
With the help of its audience and panel, it will ask whether religion is purely a private matter or should faith groups play an active part in shaping public policy?
The programme will examine whether religious freedoms are being undermined and whether there should be continued provision for Catholic schools in Scotland's education system.
The Scottish independence referendum is due to take place in autumn 2014, but what hopes and concerns do religious and secular groups have for Scotland's future?
If you have views you would like to air or questions you would like answered, why not apply to be a member of the audience by using the form below.
The special debate will take place on Monday, 25 February, at BBC Scotland's Glasgow headquarters and participants will need to be available from 17:45 to 20:30.
Guidelines require the BBC to have a representative audience for this event.
To help us do this, we will ask all members of the audience whether they are associated with a political party or if they already have a view on the referendum on independence.