Scottish Parliament referendum power to be rubber-stamped by Privy Council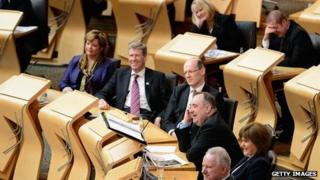 The legal agreement for the Scottish Parliament to organise an independence referendum is to be rubber-stamped later in London.
A so-called Section 30 order by the Privy Council is a formality but is seen as a significant step on the path to the referendum.
The Privy Council is a formal body of advisers to the Queen.
It will formalise that a referendum should be organised and conducted by the Scottish Parliament.
That has already been agreed by the UK government at Westminster and its counterpart at Holyrood.
Although no formal date for a referendum has been published yet, Scottish ministers say it will be held in the autumn of 2014.