Ruth Davidson: Voters don't trust Tory motives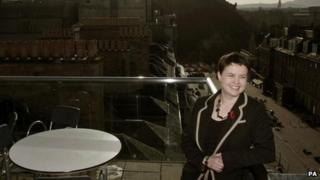 Scottish Conservative leader Ruth Davidson has said voters do not trust the motives of her party, as she seeks to boost its electoral fortunes.
Ms Davidson said Scots understood the Tory message but, in too many cases, "they didn't like what they were hearing".
Delivering a speech in Edinburgh, she said she was proud of her party.
But Ms Davidson warned the Tories are letting themselves down if they keep ducking the problem.
The Scottish Conservatives, a self-governing part of the UK party, have suffered declining fortunes since the 1997 UK election defeat.
The party currently has 15 out of 129 MSPs and, despite being in government at Westminster, have only a single Scottish MP.
Ms Davidson, who was elected Scottish Tory leader in November 2011, said in her speech: "I'm proud of our past and I believe passionately in our future.
"But to continue to duck the hard questions about our lack of electoral success would be to let ourselves down."
She said there was some truth to the argument from those within the party who say that it has failed to explain its goals.
'Toxic brand'
But the leader also argued that the Tories' problems could not purely be put down to "poor marketing", adding: "We need to admit something to ourselves - however hard it may be - that the Scottish public did indeed get our message, that they heard us very clearly.
"And in far too many cases they simply didn't like what they were hearing, or what we were offering."
Ahead of the independence referendum, Ms Davidson - who campaigned for the leadership with a pledge to oppose further powers for Holyrood - argued that the Scottish Conservatives as a party "struggled to accept" that the people of Scotland wanted a stronger voice.
She said: "Uncomfortable though it may be to admit, too many of our fellow Scots whose values we share simply don't trust our motives.
"When it comes to Westminster elections, they see us as London's party in Scotland not Scotland's party in London.
"When it comes to elections to the Scottish Parliament, they want to vote for a party that will put Scotland first, and too few truly believe that of us."
To win the leadership, Ms Davidson, who said too many see her party as "a brake on the aspirations of Scotland and not a torch-bearer", saw off a challenge from the party's then deputy leader, Murdo Fraser.
Mr Fraser, who was seen as the frontrunner, wanted to abolish the Scottish Conservatives - often described by critics as a "toxic brand" - in favour of a new centre-right party.
At Holyrood, the Scottish Conservatives have also come under pressure from Labour and the SNP government, who have used controversial UK government welfare reforms and spending cuts to portray the Tories as uncaring.