Looking at the books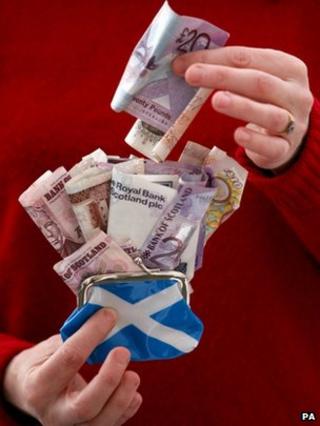 The dismal science was to the fore in the Holyrood chamber today. And not just because one of its practitioners, A. Salmond, was sitting on the front bench, supporting his Finance Secretary John Swinney.
But, in addition to economics, there were oblique allusions to other, more cheerful sciences as MSPs debated the Budget Bill which gives effect to Scottish government spending plans for the coming year.
Mr Swinney depicted himself as a stern advocate of Newtonian cause and effect physics. He would listen to suggestions for extra spending, he said, but only if there were matching ideas for cuts elsewhere.
By contrast, he seemed to feel that his opponents lived in a multi-dimensional Scotland - in which more than one spending pledge could occupy a single given space; in which a fixed budget could develop an elastic capacity to satisfy everyone.
In response, Mr Swinney's opponents noted that he was given to constant, iterative experimentation - without apparently deriving conclusions. Each time he pronounced, they said, he described his spending plans as a "budget for jobs and growth." Each time, the outcome was rather different.
Labour's Ken Macintosh came under particular attack from Mr Swinney and then from a succession of SNP backbenchers.
Mr Macintosh opened in consensual fashion by consoling Mr Swinney for the difficult economic circumstances visited upon him by the UK government. That mood lasted roughly 17 seconds before normal service was resumed.
According to Mr Macintosh, the SNP had amplified problems created in Whitehall by misplaced priorities. Then he had a go at offering ideas as to where money might be found for topping up expenditure on, for example, colleges, housing and rail.
The list included cash diverted from underspending - plus cutting the money spent preparing for the referendum and "junkets", including a trip by the Scottish government to the Ryder Cup in America (in order to prepare for Scotland acting as host.)
Hard done by
Unaccountably, Mr Swinney seemed to feel this list fell somewhat short. His aides noted later that limited cash saved once, from a single event, could scarcely provide spending year after year.
Mr Macintosh persisted. There is some £331m available to Scotland as a result of Barnett consequentials from the UK autumn statement. Labour, he said, would spend it all on housing.
Enter Mr Swinney in Newtonian style. Would that not squeeze out capital spending planned for other areas such as higher education? It meant nothing of the sort, said Mr Macintosh. Cue Nationalist guffawing, some of it genuine.
To be fair to Mr Macintosh, he persisted over the laughter. He wanted to use the Non Profit Distributing model under the auspices of the Scottish Futures Trust, arguing that Mr Swinney had over-promised on NPD and under-delivered.
For the Tories, Gavin Brown also claimed that colleges had been hard done by. Similarly challenged to find savings, he produced a list - mutualise Scottish Water, restrict concessionary travel to those aged over 65, limit free prescriptions and introduce a graduate contribution. Mr Brown's challenger subsided.