Politics of healing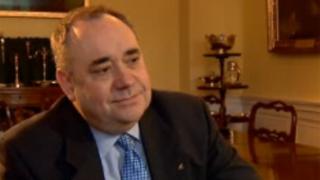 There is much that besets our politicians in these troubled times. But one of the greatest challenges they face is that they are obliged, particularly if they are party leaders, to offer instant expertise on pretty well everything.
Indeed, perhaps the only other trade which is comparably afflicted is.. journalism.
Today our leaders at Holyrood essayed a little amateur medicine. They gazed steadily at each other, took the pulse of the moment - and professed their rival to be suffering from a chronic disease.
Labour's Johann Lamont summed up Alex Salmond's problem in an instant: serially mendacious. Mind you, as the patient pointed out, Ms Lamont has argued previously that Mr Salmond's condition was fatal only for the FM to stage a remarkable recovery.
On this occasion, she was talking about the guarantee that no patient should wait more than 18 weeks from referral to treatment. The lists, she said, had been manipulated in Lothian, there were queries elsewhere and now, as my esteemed colleague Eleanor Bradford disclosed, there had been problems caused by a faulty scanner in NHS Grampian.
Ms Lamont attacked Mr Salmond. But she also had more than a few sharp words for his deputy Nicola Sturgeon who only recently moved from the health remit. This would appear to be part of a sustained strategy of what one might call deputy decapitation.
Unwarranted delays
The FM was unimpressed. Any minor, temporary ailments now were as nothing compared to the acute crisis which had beset Scotland under Labour when, he said, hidden waiting lists to manipulate the system had been "endemic". In support of that assertion, he quoted - at length - from another report by Eleanor in which she had tracked the recent history of such matters.
As Ms Bradford's ears burned faintly pink from all this competing attention, the FM went on to say that the problem in Grampian had been tackled and that, more generally, it was simply wrong to say that the waiting time guarantee was in jeopardy.
For the Tories, Ruth Davidson also questioned the FM's integrity. Scotland, she said, had been promised £500m in big project capital investment through the Non Profit Distributing (NPD) model, a form of private finance.
The actual sum invested so far, she said, had been £20m. And she insisted that the first minister was wrong to assert that the shortfall was owing to unwarranted delays in Aberdeen's western peripheral road. Mr Salmond, she said, had fallen far short in delivery.
But the first minister insisted that the NPD model, delivered through the Scottish Futures Trust, was proving successful. He said that the money had to follow specific projects - such as the Aberdeen bypass - but that it would all be delivered.
Scintilla of stagecraft
A third line of attack came from Willie Rennie of the Liberal Democrats and, on the day, he was gently effective.
Mr Rennie's party has consistently opposed the creation of a single police force and so he feels justified in pouncing upon the dispute between the new chief constable and the incoming chair of the police authority. The argument is over who controls staffing and finance.
In response, Alex Salmond noted that there was a meeting tomorrow - and that Mr Rennie might care to return to the topic next week when the outcome was known.
Rising slowly and speaking deliberately, Mr Rennie said that, if it was OK with the FM, he would pose his questions today when it was still possible to influence that outcome.
It was a touch of theatre, a scintilla of stagecraft. But, again on the day, it worked. Once more, though, Mr Salmond was undeterred. It was not his direct responsibility - but he took the matter seriously and anticipated that the entire premise of Mr Rennie's question would turn out to be wrong.
Move along now. Nothing to see.