Scottish independence: Glasgow University students plan ballot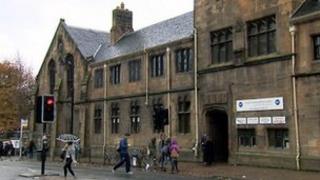 Students at Glasgow University are to hold their own referendum on Scottish independence.
The campaign will feature a series of debates, starting next week, with a campus-wide vote on 21 February.
Organisers say 20,000 students will be eligible to take part in the secret ballot, which will use the question proposed by the Scottish government.
The real referendum on Scottish independence is expected to be held in the autumn of 2014.
The SNP wants to ask a Yes/No question - Do you agree that Scotland should be an independent country?
Glasgow University's event will be the first large-scale poll of what Scottish university students think about Scotland's future, based on that question.
Future choice
Michael Gray, president of the Dialectic Society, said: "It's a great idea to encourage debate and activism on campus.
"The result of the real referendum will impact students in Scotland for the rest of their lives, so holding our own vote is one way of finding out what young people think.
"Glasgow can lead the way and hopefully other students across the country will follow suit."
Five debates and hustings will be held on campus in the run up to the poll, featuring local and national politicians, commentators and academics.
The referendum committee organising the vote is made up of the Dialectic Society, Politics Society, Labour Club, Scottish Nationalist Association, Liberal Democrats, International Socialist Group, Conservative and Unionist Party and the Feminist Society.
The two student unions, Glasgow University Union and the Queen Margaret Union, have also confirmed their support for the event and will host the ballot boxes on the day of the poll.