Alex Salmond given performance coaching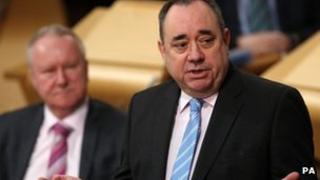 A spokesman for Scotland's First Minister Alex Salmond has confirmed that he has had meetings with a personal performance adviser.
But he insisted he had not "employed" a life coach.
Mr Salmond has had several meetings with Claire Howell, who described herself as an "executive coach".
The confirmation came after Scottish Labour leader Johann Lamont made a quip at first minister's questions about his "London life coach".
During questioning about NHS waiting time figures, Ms Lamont said: "The first minister, I understand, has a London life coach. It would suit him to make sure he understood what real life was for most people in this country."
The spokesman for Mr Salmond said: "The first minister knows Claire Howell and has met Claire Howell from time to time. I don't know if 'client' would be an accurate description."
He added that Mr Salmond had met with Ms Howell in a professional capacity but insisted this was well known already.
Ms Howell's website says she offers executive coaching to "chief executives for personal performance & strategic skills" as well as offering "psychological coaching of premiership football teams".
An SNP spokeswoman said: "This is desperate stuff from Labour - Claire Howell has worked with the SNP for a number of years, as has been widely reported in the past.
"Labour's problem is that no amount of advice, professional or otherwise, can dig them out of the hole they have fallen into as they alienate more and more voters across Scotland."