Slovakia's Lajcak says no clear answer to independent Scotland's EU future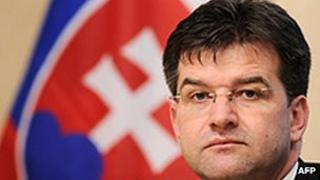 The deputy prime minister of the EU's newest country says there is "no clear answer" to the issue of an independent Scotland's status in Europe.
In a BBC interview, Slovakia's Miroslav Lajcak also warned Westminster about "cherry picking" its EU membership.
The focus on Europe comes as the Scottish government plans its independence referendum in 2014.
The UK government is also facing EU questions as it ponders renegotiating powers from Brussels.
Mr Lajcak, whose country has just marked 20 years of independence, said he was aware of the discussion "going on" about whether an independent Scotland would continue as a member of the European Union or have to reapply as a new state.
He said: "There is no clear answer to this. In the end, it is a political decision made by all the member states."
The Scottish government has always maintained that, in the event of a "yes" vote, Scotland would "quite clearly" remain part of the European Union and negotiations would take place "from within that context".
However, EC President Jose Manuel Barroso said any newly independent state would have to reapply for European membership "according to the rules".
In his interview with BBC Scotland political correspondent Glenn Campbell, Mr Lajcak also said he thought the best thing for the UK was to stay in the European Union.
Prime Minister David Cameron is due to make a speech on Friday about the UK's relationship with Europe.
The Slovakian politician said: "Membership of the EU is not about cherry picking. It brings a lot of advantages and, of course, it requires a lot of responsibilities.
"I am not convinced by the debate going on in the UK because I don't think is it fully based on facts and I think that your economy, your businesses, should speak out more loudly.
"I have absolutely no doubts that the best for the UK is to stay in the European Union."
Slovakia joined both the EU and Nato in 2004 and then the eurozone in 2009.
Mr Lajcak said he was aware that his country's path to independence would be looked at in the context of Scotland's independence debate, but he added that he did not believe it was necessarily a "model to follow".
Slokavia and its neighbour, the Czech Republic, were born on 1 January, 1993, following the dissolution of Czechoslovakia.
Mr Lajcak said that, after a troubled start, his country was "doing very well" and had a good relationship with its neighbour.
"When my country was born many people were sceptical about the chances for us to exist, let alone prosper," he added.
"Right now, everybody understands and acknowledges that we have been a success story."