FoI legislation could be extended to cover some publicly owned bodies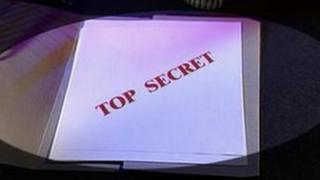 People in Scotland may soon have the right to request information from publicly owned bodies providing leisure facilities for councils.
Deputy First Minister Nicola Sturgeon made the announcement to MSPs.
Many Scottish councils have split off their culture and leisure services and set up companies to run them, such as Glasgow Life and Edinburgh Leisure.
However, because they are external bodies, the public cannot use freedom of information to probe how they work.
Ms Sturgeon used the stage 3 debate on a new FoI (Amendment) Bill to announce she would consult on bringing culture and leisure under the FoI rules.
But Liberal Democrat leader Willie Rennie described this as "a timid response" to widespread calls for all arms-length external organisations (Aleos), not just culture and leisure, to be brought under the information act.
Labour MSP Elaine Murray also sought to introduce a clause to the Bill itself to compel councils to transfer FoI responsibilities to new Aleos at the point of conception.
This was rejected by Ms Sturgeon and her SNP colleagues, who say that the discretion to designate Aleos and other bodies, such as housing associations, should remain with Scottish ministers.
No minister has extended FoI rights to any public body since the FoI Act was passed over a decade ago, but Ms Sturgeon pledged to make the first new designations "as soon as practicably possible".
Ms Sturgeon said: "This initial order, and I stress the word initial, will at the first instance extend coverage to bodies established by local authorities to deliver recreational, sporting and cultural and social facilities and activities on their behalf.
"We then plan to look towards further extensions of other Aleo organisations carrying out other functions.
"We didn't consult on them previously, but I can confirm that I now intend to consult (council umbrella body) Cosla, local authorities and other interested parties on bringing councils' other Aleos which carry out public functions within the scope of FoI.
"Prioritising Aleos does deal with the legitimate point about the erosion that has been made."
Mr Rennie complained that the SNP had taken six years to bring its proposals forward.
"This is a timid response to a demand that's been going on for a long time," he said.
"Now, I admit my party's administration previously didn't implement it, but six years the SNP has been in office and done absolutely nothing about it. We cannot wait any longer for this change."
At the end of the debate, MSPs unanimously backed the Freedom of Information (Amendment) (Scotland) Bill at stage three. The Bill will now be put forward for royal assent.
Following the Holyrood debate, arms length organisation, Glasgow Life, said that although it was not legally covered by FoI it did accept information requests.
When it was set up in 2007, Glasgow City Council said the body should answer FoIs. Glasgow Life said that last year it received 52 requests and answered them all.