Audience plea for Scottish referendum debate programme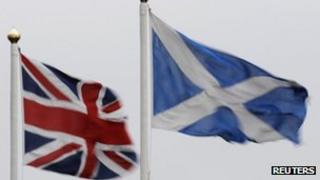 Would you like to be part of Newsnight Scotland's debate on the Independence Referendum and what it means for minority communities in Scotland?
Newsnight Scotland will be hosting a special debate on Monday 28 January. The discussion will look at how Scotland's ethnic and immigrant communities are engaging in the referendum debate, looking at their possible concerns and hopes.
Are you from an ethnic minority background or do you work with minority communities in Scotland? If so, and if you have views and questions about Scotland's future, we'd like to hear from you and invite you to apply to be a member of our audience.
The programme will be broadcast at 10:30pm on BBC Two Scotland on Monday 28 January.
If you are interested in joining the audience, fill in the form below.
Guidelines require the BBC to have a balanced audience for this event.
To help us do this, we will ask all members of the audience whether they are associated with a political party or if they already have a favoured view on whether Scotland should become independent or remain part of the UK.