Scottish independence: Nicola Sturgeon writes referendum blog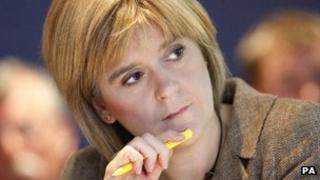 Scotland's constitutional minister Nicola Sturgeon has written the first entry of a new online blog on the forthcoming independence referendum.
The webpage will also feature contributions from invited guests.
Her first blog called for the Scottish and UK governments to engage in a "well informed and constructive" debate.
She added that a series of papers covering the main arguments for independence would be published in the next year by the Scottish government.
In her 900-word blog Ms Sturgeon said she strongly disagreed that Scottish Secretary Michael Moore's stance that there should be no pre-referendum discussions.
She wrote: "It is clearly in the interests of both Scotland and the rest of the UK that such discussions do take place.
"I would have thought that the secretary of state for Scotland, of all people, would see the sense in that.
"After all, even though he opposes independence, he will surely want the best deal for Scotland in the event that we do vote 'yes'.
"Indeed, given that the Scottish government has made clear its intention to involve other parties in the negotiation process, he may well have a part to play on Scotland's behalf."
Ms Sturgeon made similar remarks in an interview with BBC Radio Scotland's Good Morning Scotland programme.
She said: "There is some ground work we can do now to ensure that if people in Scotland vote yes, as I obviously hope that they do, we are in a position after that result to move quickly and smoothly to implement the democratic wishes of the people of Scotland."