Scottish independence: MPs call for vote rules consensus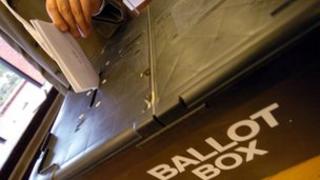 A committee of MPs has called on the Scottish government to put aside party politics when working out the rules of the 2014 independence referendum.
The plea was made in a Scottish Affairs Committee report which concluded that Holyrood should receive a section 30 order to conduct the historic vote.
However, it said the rules should be based on the widest possible consensus.
The SNP said it welcomed the "grudging" report, adding the referendum would reach the "gold-standard for fairness".
The Scottish Affairs Committee is producing a series of reports into the forthcoming referendum.
The latest is titled "The Referendum on Separation for Scotland: The proposed section 30 order - Can a player also be the referee?"
It looked at a whole raft of issues including:
the case for holding a referendum
the timing of the vote
the wording of the proposed question
the role of the Electoral Commission
spending limits
and donations
The committee's members welcomed the October 2012 agreement between the UK and Scottish governments allowing the Scottish Parliament to have the legal right to hold a referendum.
However, it said that the deal placed a "heavy responsibility" on Holyrood to build a referendum bill on the "widest possible consensus".
The chairman of the committee, Ian Davidson, said: "The Edinburgh agreement was reached by compromise and consensus between Scots at Westminster and Scots at Holyrood and we congratulate both teams.
"This referendum will be Scotland's shop window on the world - it must be handled with pride and probity.
"Ideally, the details will be agreed by consensus and co-operation during the campaigns.
"The worst option is to have the pursuit of factional advantage - 'the aggregation of marginal gains' - by the majority who have control and who dread defeat.
"We fear the worst - but hope for the best."
Responding to the report, SNP MSP Linda Fabiani said the "yes" side of the debate would perform the duties expected of them with the "highest degree of integrity" and with a "full and proper understanding" of the importance of the issues involved.
Do you agree?
She went on to criticise the "inherent unfairness" of the 1979 devolution referendum.
She said that with the involvement of the Electoral Commission, the Scottish independence referendum would meet the "gold-standard for fairness in every single regard".
Ms Fabiani added: "The more that 'no' supporters in the Tory/Labour alliance complain about the scrupulously fair and open process that is happening at Holyrood, the more they give the impression that they are scared of the people's verdict in the referendum."
The Scottish government has agreed that the commission can scrutinise its proposed question.
It wants people to be asked to vote "yes" or "no" to the question: "Do you agree that Scotland should be an independent country?"
The watchdog is expected to report its findings within the next two months.