Iain Gray MSP makes bus regulation bill bid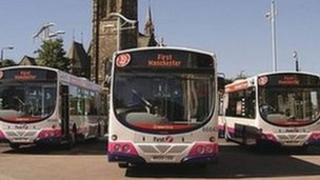 The former leader of Scottish Labour has proposed a parliamentary bill aimed at strengthening regulation in the Scottish bus industry.
Iain Gray wants local councils to be able to bundle together profitable and loss-making routes and offer them as a package bus firms can bid for.
His plans also include monitoring the quality of vehicles used.
The proposed Regulation of Bus Services (Scotland) Bill comes after an earlier attempt to strengthen bus regulation.
Former Labour MSP Charlie Gordon's members' bill was unsuccessful because it failed to win necessary cross-party support.
A Transport Scotland spokesman said that legislation was currently available to local authorities to enable them to "influence the provision of bus services in their area".
But he added that the body was interested in any proposals for change that would help to improve bus services in Scotland.
Mr Gray said: "Bus journeys have decreased in recent years but they are by far the commonest means of public transport in Scotland, with many more journeys by bus than by rail.
"Yet successive SNP governments have given little attention or support to Scotland's buses, cutting government funding of bus routes and continuing to invest more money in rail journeys.
"As a result, we have seen services reduced or even withdrawn across Scotland, and inflation-busting fare increases imposed on passengers."
The East Lothian MSP claimed his constituency had been "one of the hardest hit", adding: "The deregulated, free market in bus services has not served my constituents well, delivering expensive and unreliable services, or none at all for many communities."
Mr Gray argued it was time to accept existing legislation in this area had "not worked and put it right so that bus passengers throughout Scotland can expect a decent, regular, affordable bus service".
He continued: "Many years ago I worked as a bus conductor on routes through East Lothian.
"These were the best, most profitable routes in the publicly-owned Scottish Bus Group.
"Privatisation and deregulation have reduced them to little more than a skeleton service, with many villages excluded altogether.
"Doing nothing will simply allow this slow, steady decline to continue, until we have no buses at all.
"I am hoping that problems like those in East Lothian will finally have convinced other parties that we have to act and that they will support my bill so that we can get it to parliament and change the law."
Mr Gray's proposals already have the backing of the Unite trade union.