'Progress made' on Scottish hospital rooms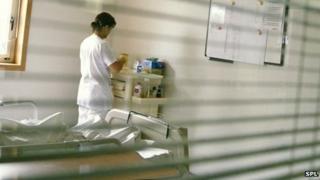 The Scottish government has published figures indicating that 26 hospitals in Scotland now provide only single rooms for patients.
It has said not having to share sleeping space with others helps to protect the dignity of patients.
Healthcare-associated infections are said to be reduced by single rooms.
Former Health Secretary Nicola Sturgeon announced in 2008 that single rooms would become the norm in Scotland for new and refurbished hospitals.
Throughout Scotland's 218 hospitals, 32% of the total beds are now in single rooms.
Health Secretary Alex Neil said: "Single rooms provide a better and safer environment for patients and will enhance their experience during their stay in hospital.
"More importantly, single rooms make a significant contribution towards reducing the patient's risk of contracting and passing on an avoidable infection."
Recent projects completed with 100% single room provision include Migdale Hospital in Bonar Bridge and the Royal Victoria building in Edinburgh.
The biggest hospital under construction in Scotland, the South Glasgow Hospitals campus, will also have no adult patients sharing rooms.