Moves towards national pay system for college lecturers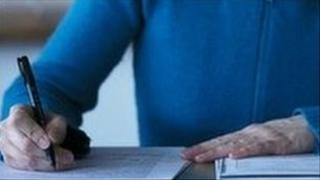 Scotland's further education colleges look set to return to national pay and conditions, ending more than 20 years of separate contracts.
Teaching union, the Educational Institute of Scotland (EIS), said pay currently varies by as much as £5,000 for lecturers doing the same job.
It has written to ministers urging them to address the issue.
The Scottish government has confirmed it is endorsing a move to rationalise pay and conditions in colleges.
Many of Scotland's 40 further education colleges are currently in the process of a series of mergers.
EIS General Secretary Larry Flanagan had urged Education Secretary Mike Russell to act on re-establishing national bargaining for college lecturers' pay and conditions.
National system
He said: "As the Scottish government continues with its programme of college regionalisation and the merging of individual institutions, this highlights the urgency of moving towards an improved method of negotiating lecturers' pay and conditions through national bargaining.
"Currently, the difference between the pay of lecturers in two different colleges for doing the same job can be over £5,000.
"There are some even more glaring differences between colleges in terms of other conditions of service such as working hours, class contact time and annual leave."
He added: "In a country as small as Scotland, with an FE sector that is seeing an increase in college mergers, it makes less sense than ever for Scotland's colleges to continue to have such divergent pay and conditions for lecturing staff."
Responding to the letter from the EIS, the education secretary said he had been clear that there should be a system of national bargaining for colleges.
Mr Russell added: "I believe there is a growing body of opinion which questions the need for around 40 different sets of terms and conditions.
"Our college reform programme is transforming the sector and this is an important opportunity to make progress, based on consensus, towards a sensible system of national bargaining."