Minimum alcohol pricing: European health ministers lobbied on Scottish plans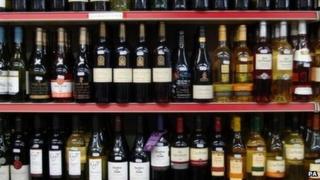 Scotland's health secretary is urging European Union health ministers to back the country's plans to bring in a minimum price for alcohol.
An EC consultation on the Scottish Parliament's Alcohol (Minimum Pricing) (Scotland) Act 2012 - which would set a unit price of 50p - closes on Thursday.
Several EU trade ministers have raised objections to the move.
But Health Secretary Alex Neil said he was now contacting health ministers urging them to lend their support.
Objections raised with the European Commission argue that Scotland's plans for minimum pricing are a disproportionate response to the country's drink problems.
It has also been warned that the move could restrict imports of foreign alcohol.
'Different view'
Mr Neil said he was lobbying ministers from countries who had raised concerns.
He told BBC Radio Scotland's Good Morning Scotland programme: "It's true that their trade ministers have lodged an objection, but when you talk to their health ministers you get a different view.
"So, I'm communicating with the health ministers throughout the EU to persuade them to lend their voice within their governments and the EU Commission to our cause."
The EC believes minimum pricing on alcohol is incompatible with EU regulations and should not be introduced, according to its own commentary on the proposals released last month.
It would prefer a wholesale increase in all alcohol prices through raising taxes, something outwith Holyrood's control, or unspecified measures in Scottish regions where alcohol abuse is a problem.
But Mr Neil said such measures would not have the same impact as minimum pricing.
"We are working with the UK government to persuade the EC that this is the right thing to do and to allow minimum unit pricing," he added.
The UK government has also brought forward minimum pricing proposals for England and Wales, based on a lower unit price of 45p.
The health secretary said he did not expect to be in a position to start implementing the Scottish government proposals until well into next year.
The Wine and Spirit Trade Association is opposed to the move, which it describes as "unfair and illegal".
Chief executive Miles Beale said: "It is time to abandon this ill-thought-out policy."