Prescription medicine waste 'costs £500,000' to NHS in Scotland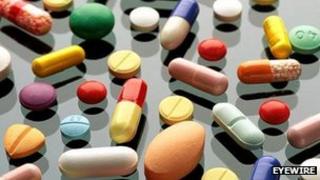 The Liberal Democrats have hit out at the £500,000 a year cost to the NHS in Scotland for collecting and destroying unused prescriptions.
The figures obtained by freedom of information cover the cost of medicines returned unused to pharmacies in 10 out of 14 health boards in 2011/12.
The Scottish Lib Dems said colossal amounts of medicines were being wasted.
The Scottish government said GPs, health boards and patients needed to be aware of the problem.
The collective cost for the 10 health boards totalled £517,342.
In Glasgow the cost was £120,000, while in Lothian £46,239 was spent in 2011/12, with 44 tonnes collected in 2011.
Elsewhere, Grampian spent £70,638, collecting 36.4 tonnes of wastage in 2011, while Fife spent around £33,000 annually collecting approximately 19 tonnes.
Lib Dem health spokesman, Jim Hume, said these costs did not take into account the value of the medicines being wasted, or the cost of prescribing them in the first place.
He said many people were also throwing out unused prescriptions rather than returning them to the pharmacy.
Mr Hume added: "NHS staff need to regularly review the medicines that a patient is on. This is a proactive measure which could cut costs and improve health by ensuring patients are receiving appropriate treatment.
"Patients can do their part by ensuring that they don't take out repeat prescriptions and then not use them.
"This means visiting your GP if you're unsure about the need for your repeat prescription. With taxpayers footing the bill, we should do what we can to reduce it."
A Scottish government spokeswoman said: "Reducing medicine waste is something everyone needs to be involved with which is why health boards are working through local campaigns, GPs and pharmacies to make sure patients understand how and when to take their prescription.
"Reducing medicine waste not only saves the NHS money - it can also mean that patient conditions are better managed and can reduce hospital admissions."