Correction rules changed for MSPs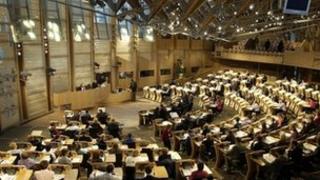 Changes have been made to the procedure used by MSPs to correct inaccurate statements made in Holyrood.
A section of the parliament's business bulletin, which sets out proceedings in Holyrood, will be used to publicise any corrections that have been made.
Holyrood's standards and procedures committee hopes the move will make corrections more open and transparent.
The changes followed a row over inaccurate figures on green jobs given by First Minister Alex Salmond.
The updated guidance to MSPs also makes it clear the specific steps they are required to take to highlight any corrections to fellow members of the parliament.
Members of the standards, procedures and public appointments committee examined the issue after Presiding Officer Tricia Marwick admitted there was still confusion about the process, which was brought in just over a year ago.
Committee convener Dave Thompson said they had "taken the opportunity to make the guidance and the procedures clearer and more streamlined".
He added: "Taken together, we trust these changes will deliver an open and accessible corrections process."
Ms Marwick said she was grateful to the committee for its quick response.
She added: "Members will welcome not only greater clarity to the process but more crucially the increased transparency it will bring to parliamentary scrutiny."
The mechanism by which an MSP can correct an incorrect statement, made in either the main chamber or one of the committees, was introduced in Holyrood in October last year.
When a correction is made to the official record, the incorrect information remains, with the correction alongside.
Mr Thompson said the revised guidance should make it clear that there are specific steps that MSPs are required to take to ensure that corrections are publicised to other members.
Last month, Mr Salmond told parliament there were 18,000 green jobs in Scotland, but later revised the figure in its official record to 11,000.
He has used the method three times this year, but the Conservative MSP Liz Smith, who was given the original incorrect answer on green jobs, complained she was not told about the change.
At the same time, SNP members had accused opposition MSPs of making mistakes in the chamber which they have never sought to correct.