School music tuition charges should end, EIS union urges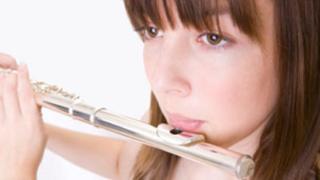 Scotland's largest teaching union has called on local authorities to end music lesson charges for thousands of pupils sitting SQA music exams.
During a debate on the issue in Holyrood last month, it emerged that 24 of 32 councils were charging up to £340 a year for instrumental tuition.
The EIS union said some pupils were also being charged for sitting SQA music exams.
The council body Cosla denied there was a postcode lottery for music tuition.
In September, Education Secretary Mike Russell said that charging for music lessons in schools was "undesirable" but difficult to avoid.
But the Scottish government has set aside an extra £1m to buy instruments around the country and is setting up a working group to review music provision in schools.
Announcing the review last month, Learning and Skills Minister Alasdair Allan said the government wanted greater clarity on the issue.
It came after a member's debate was brought forward by former Labour leader Iain Gray, who revealed the number of councils charging for instrumental tuition.
EIS general secretary Larry Flanagan said: "The postcode lottery of provision that has emerged across Scotland - with wide variations in fee policy and the level of charges for instrumental music tuition - is causing significant damage to the availability of music education for children in some parts of the country.
"A recent EIS survey of instrumental music tuition in schools found huge variations in the level of fees that pupils are expected to pay - while some councils provide free tuition in their schools or charge only for equipment hire, others are charging pupils up to £340 a year for their tuition.
"Even more worrying is the damaging practice in some local authority areas of actually charging pupils for presentation to SQA music exams.
"This is simply unacceptable from both an education and equality point of view, and must be one of the top priorities for the new working group to address."
'Democratic decision'
However, Cosla's education spokesman Douglas Chapman said: "Local authorities have agreed charging policies over many years and in close consultation with parents.
"It is a fact that instrumental music tuition costs money and has to be paid for in some way.
"Local authorities that do not charge, or who apply lower charges, will still have to subsidise music tuition from other budgets. It is not a cost-free option not to charge for music tuition.
"While charging policies have been around for many years, local authority budgets are under pressure like never before.
"Faced with this financial reality parents are often willing to pay towards the cost of tuition rather than risk seeing a reduction in service.
"This is not a lottery, but a democratic decision by local authorities responding to views of parents."
A Scottish government spokesman said: "The Instrumental Music Group, chaired by David Green, and including representation from EIS, will investigate and offer recommendations on the issues of delivering instrumental music tuition, including the question of charges for pupils sitting SQA music exams.
"We welcome the experience that EIS will bring to the group and look forward to working with them on this issue."