A time for Christmas miracles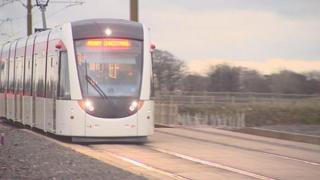 It is, of course, the season for such things - but a miracle was witnessed in Scotland's capital today. There was a sighting of a tram. Moving.
I know, I know, that such a thing should happen. But I swear it is true. An Edinburgh tram moved a trial distance along pre-laid tracks. Trust me, I'm a journalist.
The development was hailed by the city council as "hugely encouraging".
The people of Edinburgh were thanked for their patience. Unfortunately, the exultant reply from the citizenry was drowned out by the cries of relief from officials when the tram actually moved.
There may be more such scenes of joy across Scotland - without, it is to be hoped, the accompanying farce. Not, you will be relieved to hear, further tram projects - but development of Scotland's civic estate.
Finance Secretary John Swinney has announced how he is to spend the extra money allocated to Scotland in the autumn statement designed to be used for capital investment.
Mr Swinney noted, with only a mild degree of festive acid, that the extra money reduced the overall real-terms cut in Scotland's capital allocation from 33% to 26%.
Still, he welcomed the announcement from the Treasury while spelling out how he plans to spend some £205m this year and next. (The following year will have to wait: there will be a full-scale spending review by the Treasury between now and then.)
The big winner? Affordable housing with £50m. Mr Swinney said that would both help struggling families and boost construction jobs. Indeed, he went so far as to forecast a "building boom".
Politically, it was a slightly tricky one for the finance secretary.
He wants to stress what the Scottish government is doing - without giving all that much credit to the chancellor.
Hence, the prelude re the longer term impact of cuts and his implicit depiction of George Osborne as a repenting sinner.
Certainly, the representatives of UK coalition parties in the chamber were swift to point out that the origin of the cash doled out by Mr Swinney was Number 11 Downing Street.
Mr Swinney noted that he had repeatedly urged such a move - and had already diverted cash from revenue to capital.
Growth 'essential'
Both Labour's Ken Macintosh and Gavin Brown of the Tories complained about what they perceived as an unwarranted delay in turning the money into development on the ground. What had happened, they said, to the promise of "shovel ready projects"? Why were the shovels not already swinging?
Mr Swinney was magisterially dismissive. Some projects were going ahead in this financial year. The vast bulk in 2013-14.
He had to follow the statutes applying to contract tendering. Growling a little and looking stern, he inquired whether his opponents were suggesting that he break the law.
Patrick Harvie of the Greens suggested that Mr Swinney might now care to reverse his earlier transfer from revenue to capital.
Putting the cash back into day to day spending, he said, would allow a bigger pay rise for public sector workers.
Mr Swinney demurred. Sacrifices had had to be made - and it was vital to balance the understandable concern of individuals over pay with the wider needs of the economy.
Growth was essential.