Scottish independence: North Sea oil revenue 'becoming more erratic'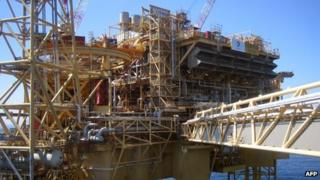 The value of North Sea oil to Scotland's economy is becoming more erratic and difficult to predict, according to a report by a think tank.
The Glasgow-based Centre for Public Policy for the Regions said oil revenue forecasts had halved within 18 months.
Its report suggested Scotland's current economic position was better than the UK as a whole, but that this would be reversed in three years' time.
The Scottish government said oil and gas remained a "fantastic asset".
Oil revenues have contributed up to a fifth of Scotland's annual income (21.3%) in the past decade.
The study said a range of factors - from accidents to increased maintenance - have added to the basic depletion of North Sea reserves.
In February, First Minister Alex Salmond set out his vision for an independent Scotland to establish an ''oil fund'' to help future generations, a plan based on a scheme already operating in Norway.
Mr Salmond believes that earmarking about a tenth of oil and gas tax revenues - about £1bn a year - could create a £30bn fund over a generation.
The CPPR said plans to siphon off money for a Norway-style oil fund would have its benefits in an era of erratic oil revenues, but it also warned that removing the oil money from the mainstream budget would lead to a larger deficit.
Report author John MacLaren told BBC Radio Scotland's Good Morning Scotland programme: "I don't think we are really looking at how North Sea oil tax revenues should be dealt with, either a fiscally autonomous Scotland or in an independent Scotland.
"And if the idea of having some sort of oil fund is a good idea, especially when some thing is so erratic, it produces a short term gap in funding while you build that oil fund up and how you do that and how much oil you put into that fund, all of these sorts of questions need to be further explored."
The study suggested that Scotland's current economic position, assessed as stronger than the UK as a whole, would be reversed in three years.
While Scotland's deficit is currently smaller than the UK, the CPPR said that after 2014-15 "the reverse is likely to be true, implying a position that would lead to greater tightening of austerity".
"The Office for Budget Responsibility's (OBR) latest figures imply that the UK would be in a better position to ease austerity," the report said.
It noted that the Scottish government disputed the latest OBR figures, but pointed out that they are "roughly consistent" with an independent report by Professor Kemp from the University of Aberdeen.
Alistair Darling, who is leading the pro-UK Better Together campaign, said: "This report endorses the work of the independent OBR.
"It shows just how volatile the oil and gas market can be and how difficult it is to make any kind of long-term predictions in this area.
"The Nationalists would have you believe that everything in a separate Scotland could be paid for by establishing an oil fund.
"What this report shows is that they would be looking to set up this fund at exactly the same time that the revenues from oil and gas would start to steeply drop.
"This would leave Scotland with a large deficit and would mean that some very hard choices would have to be made on public spending and public services."
'Definitive picture'
A Scottish government spokesman said: "With 24 billion barrels of oil still to be recovered with a wholesale value of £1.5 trillion, the North Sea oil and gas sector has a bright future, underlined just this week with Dana Petroleum's announcement of a £1bn development, demonstrating the continuing growth of Scotland's energy sector.
"Professor Kemp's latest analysis shows the Treasury will have taken £10 billion from Scotland's North Sea in 2011-12 at a time when Scotland is facing the prospect of up to five more years of UK austerity
"The CPPR acknowledge the OBR's forecasts, which are pessimistic relative to many others, should not be seen as the definitive picture, with the UK government's own energy department expecting oil prices of $120 in 2017.
"An independent Scotland will be able to face the difficult financial choices ahead from a stronger position than in the UK and use the full range of economic levers to support growth, boost revenues and deliver public services."