Inquiry into language teaching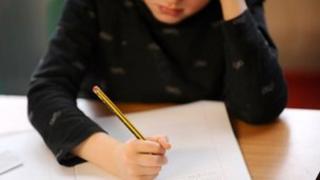 A Holyrood committee has launched an inquiry into language teaching in Scottish primary schools.
It follows research suggesting Scotland lags behind many other countries in linguistic skills.
The Scottish government has proposed that youngsters start learning a foreign language in primary one instead of the current primary six.
Members of the European and External Relations Committee are to consider the issue.
Under the government's proposals, which were based on recommendations made by the Modern Languages Working Group in a report earlier this year, children could go on to learn a second foreign language in primary five.
The committee will examine whether the school curriculum has the capacity to do this, as well as the role of languages in supporting the economy.
Committee convener Christina McKelvie and deputy convener Hanzala Malik will begin the inquiry by visiting a primary school to see how languages are taught in the classroom.
Speaking before the visit to Dalmarnock Primary in Glasgow, Ms McKelvie said: "Understanding another language is such an important skill and when children are young, studies have shown they can learn this so much more easily.
"The government's ambitions on this front have therefore been welcomed by the committee.
"Our job as a committee of the Scottish Parliament is to look at whether we think the proposals meet the aim of positively supporting primary school children in learning two more languages. And importantly, whether the resources and capacity are in place to help deliver this."
Ms McKelvie said the visit to Dalmarnock Primary School would be the first in a programme of visits across Scotland to allow committee members to hear directly from pupils, parents and teachers about how best to prepare young people for a future within the wider world.