Leveson inquiry: Scottish response panel announced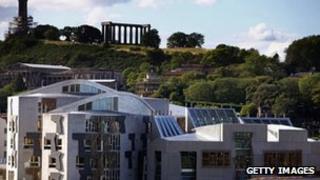 Former high court judge and solicitor general Lord McCluskey has been appointed to recommend press regulation reforms in Scotland.
He will chair a panel looking at how recommendations from Lord Justice Leveson can be applied in Scots law.
The five-person panel includes a mix of senior lawyers and journalists.
The Leveson report called for a new press regulator backed up by law. Press regulation is devolved to the Scottish parliament.
Scottish First Minister Alex Salmond has supported an ombudsman-style system of press regulation, similar to the Republic of Ireland.
The panel, which includes names suggested by opposition parties, is expected to give its advice in the next three months.
It will look into the Leveson recommendations on press standards in the context of the Scottish legal system and developments in press regulation elsewhere in the UK and abroad.
The panel membership is:
Lord McCluskey: Solicitor general for Scotland from 1974-79 and high court judge for 16 years before retiring in 2000. Chaired the 2011 review into the relationship between the High Court of Justiciary and the UK Supreme Court
David Sinclair: Head of communications at Victim Support Scotland since 2006, former assistant editor of The Herald newspaper and president of the National Union of Journalists in 1990-91
Prof Neil Walker: Edinburgh University law professor, specialising in constitutional theory. Former law professor Aberdeen University and European University Institute, in Florence
Peter Watson: Head of litigation at Levy & McRae law firm, part-time sheriff and visiting law professor at Strathclyde University
Ruth Wishart: Journalist and broadcaster who previously held senior editorial posts at the Sunday Mail, Sunday Standard and Scotsman.
Mr Salmond said: "This expert panel will offer advice on the most appropriate way to approach such statutory underpinning in Scotland, bearing in mind our legal system, developments elsewhere in the United Kingdom and experience internationally.
"What happens thereafter will be a matter for the parliament."
Meanwhile, Labour threatened to withdraw from cross-party talks on the issue, saying it first heard about the panel membership from a government news release.
The party said its nominee for the panel had been excluded.
A Scottish government spokesman said: "Ms Lamont, along with the other party leaders, was informed of the panel's composition in correspondence from the first minister's office before details were issued to the media."