Dame Elizabeth Blackadder painting features on Salmond Christmas card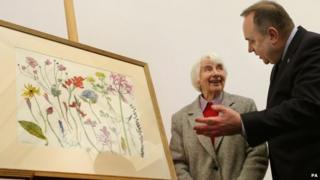 A painting of flowers and plants created by Scots artist Dame Elizabeth Blackadder will feature on First Minister Alex Salmond's Christmas card.
The colourful display marks the Year of Natural Scotland in 2013.
The original image will be auctioned in the new year, with the proceeds being shared by four charities.
Breakthrough Breast Cancer, Dyslexia Scotland, the Scottish Steelworkers Memorial Fund and the Sick Kids Friends Foundation are all set to benefit.
The painting was unveiled by the first minister at the Royal Botanic Garden in Edinburgh. The event was attended by Dame Elizabeth and representatives of the good causes.
Since 2007, sales of original artwork and limited edition prints from the Mr Salmond's Christmas cards have raised more than £131,000 for a number of charities across Scotland.
The first minister said: "Throughout 2013, we will celebrate the outstanding and diverse beauty of this country in the Year of Natural Scotland, where we encourage people to get out and enjoy what the great outdoors has to offer.
"It is therefore fitting that my official Christmas card this year will feature a painting by Dame Elizabeth Blackadder, whose work is well known for its celebration of nature through its flower and plant motifs.
"I am absolutely thrilled that Dame Elizabeth - arguably Scotland's greatest living female artist - has agreed to be involved.
"Her beautiful image shows a vivid array of common flowers and plants that can be seen in the wilds or gardens of Scotland, and I am certain it will raise a great deal for the four very good causes selected to benefit from its sale."
Dame Elizabeth Blackadder said she was delighted to have been asked to paint the image and to help support the work of "four good causes in Scotland".
The painting which featured on Mr Salmond's card last year went under the hammer earlier this year.
Bella Caledonia, by renowned Glasgow artist Alasdair Gray, sold for £4,800.
The image on the 2010 card was painted by Jack Vettriano and raised £86,000 for the Bethany Christian Trust, Maggie's Cancer Caring Centres, Quarriers and Teenage Cancer Trust.