Call for review of miners' strike arrests in Scotland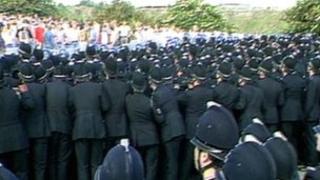 Justice Secretary Kenny MacAskill has been urged to launch an independent review of the convictions of 500 men convicted during the miners' strike.
Labour MSP Neil Findlay and MP David Hamilton have asked the Scottish government to revisit the prosecutions.
The call comes after it emerged that some police statements in England during the period of the strike may have been manipulated.
The pair have also written to the head of Lothian and Borders Police.
Mr Findlay and Mr Hamilton have argued that a new investigation could uncover evidence similar to that of an inquiry into the 1989 Hillsborough disaster, which alleged there may have been a police cover-up.
Last month nine MPs at Westminster signed a Commons Early Day motion calling on the Director of Public Prosecutions for England and Wales to hold an inquiry into the policing of the 1984 miners' strike.
It followed a BBC Inside Out programme suggesting that South Yorkshire police officers were told what to write in their statements following clashes at Orgreave during the strike.
Comprehensive review
The Independent Police Complaints Commission is carrying out an investigation into the allegations.
Mr Findlay said: "From the evidence we have seen over Orgreave and Hillsborough, there is a duty on the Scottish government and police to look again at the cases.
"I've had people coming to me raising concerns about the legitimacy of convictions against them or their relatives."
Midlothian Labour MP Mr Hamilton is a former miner and spent two months behind bars during the 1984-85 strike before being cleared.
He said: "We should remember these were decent men who had never been in courts before.
"My own experience is bittersweet. I was arrested on numerous occasions for being present on the picket lines, and I stress no violence was involved.
"After 28 years, wouldn't it be the decent thing to do, to acknowledge the role that the police and courts played as a willing instrument of a Tory Government hell-bent on destroying our communities."
The letter to Mr MacAskill reads: "Given what we now know happened in Yorkshire there is a need to carry out a full, independent and comprehensive review of each and every one of the convictions brought against those involved in the dispute in Scotland."
'Not in favour'
The politicians have also written to David Strang, Chief Constable of Lothian and Borders Police.
A Scottish government spokesman said: "We will consider any correspondence and respond in due course."
The Scottish Police Federation said it was against the idea of an independent review.
Chairman Brian Doherty told BBC Scotland: "I am not in favour of a very broad-brush, fishing trip-type approach.
"Thirty years ago almost everything that was done in society was done differently - be it in healthcare, education and policing itself, and year on year changes are made."
He added: "If there are wrongs which are identified, and these can be backed by evidence, then clearly these should be looked into but we are against a very broad-brush approach."