Michael Moore in US visit to promote Scotland as part of UK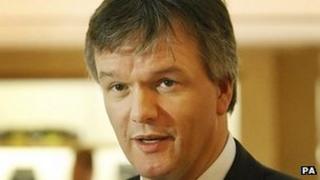 Scottish Secretary Michael Moore is to visit the United States and Canada next week to promote Scotland as part of the United Kingdom.
Mr Moore will travel to Washington DC, Ottawa and Montreal in a bid to strengthen trade relationships.
He will meet figures from politics and commerce and visit firms already doing business with Scotland.
He is also due to give a speech on Scotland's place in the world at Georgetown University.
Mr Moore said: "It is more important than ever that we make Scotland's case across the world and promote our strengths to key markets and strengthen trade.
"The USA and Canada are key to our export strategy and I will be making the case for Scotland to business people and parliamentarians in both countries.
"There is a huge amount of interest in Scotland's future following the referendum agreement and there are many issues to discuss with our international political and business partners.
"I am looking forward to having those conversations and making the case for Scotland being stronger on the world stage as part of the UK - one of the most successful trading nations in history."
In June, First Minister Alex Salmond travelled to California in an effort to build on economic links and encourage inward investment in Scotland.