Lockerbie bomber: Nelson Mandela and Archbishop Tutu urged to back release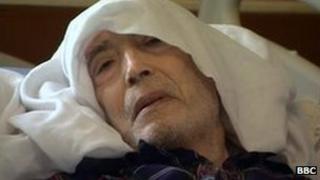 The Scottish government asked Nelson Mandela, Archbishop Desmond Tutu and former Irish president Mary Robinson to back its decision to release Lockerbie bomber Abdelbaset al-Megrahi.
Emails sent to prominent figures have been published after a freedom of information request.
US billionaire Donald Trump said earlier this year he was asked to support Megrahi's release but refused.
A spokeswoman said ministers were entitled to seek international backing.
First Minister Alex Salmond recently told the BBC the release of the Lockerbie bomber on compassionate grounds in August 2009 had seen some of his toughest days since taking office.
Megrahi, who had cancer and died in May this year, is the only person convicted over the 1988 Lockerbie bombing above Scotland which killed 270 people.
The emails were sent shortly after the Scottish government announced its controversial decision to free him from prison.
A template email was sent to the offices of Mr Mandela and Archbishop Tutu, with personalised references to their involvement or interest in the case.
Mrs Robinson, Irish president between 1990 and 1997, was approached through the human rights organisation she founded.
The Conservatives said the correspondence highlighted "the sheer desperation of the SNP to win approval for a move it knew would be both unpopular and derided".
Labour has accused the first minister of using his office to "manipulate support" for the release of Megrahi.
A Scottish Government spokeswoman said: "The Scottish Government was perfectly entitled to seek support at home and abroad for this decision which was supported by some, including some relatives of Lockerbie victims, and opposed by others."