MSP Simpson rushes to help sick FMQs spectator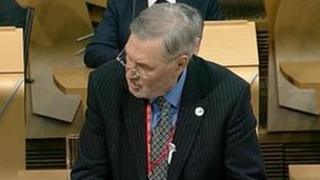 Labour MSP Richard Simpson rushed to the aid of a pensioner who took ill during first minister's questions in the Scottish Parliament.
The former GP left the floor of the chamber to assist the 77-year-old man, who was watching proceedings from the public gallery.
The MSP then made it back to his place in time to question Alex Salmond on the issue of cancer waiting times.
The man was taken to hospital by ambulance.
Commenting on the incident, a Scottish Parliament spokesman said: "A 77-year-old man took ill in the public gallery during today's FMQs.
"The parliament's security staff immediately stepped in to administer first aid and Dr Richard Simpson MSP also offered assistance.
"Dr Simpson was already present in the chamber and was able to assess the gentleman's condition before an ambulance arrived."
The spokesman said Holyrood presiding officer Tricia Marwick briefly suspended parliamentary business while the ambulance crew attended.
He added: "The member of the public was taken to hospital accompanied, we understand, by his daughter who was with him."
Dr Simpson's question to the first minister was re-ordered by Ms Marwick and taken later, so he had time to ask it before the end of the half-hour question time session.