Scottish divorce rate falls by 2% to 9,453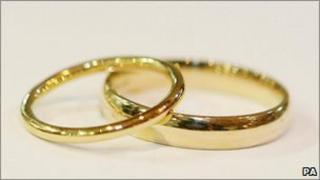 The number of people getting divorced in Scotland fell by 2% in the last year to 9,453, official figures have revealed.
The most common reason for splitting up was that the couples had not lived together for the last year.
There were also 50 civil partnerships dissolved, up from 42 the year before.
Other official statistics released have shown that the number of debt cases initiated in the sheriff courts has fallen by 11%
There was also a 15% fall in the number of personal injury cases brought before the courts last year, at 7,792 - 59% of which related to road accidents and 22% resulted from accidents at work.
Almost a third more repossession cases were initiated in sheriff courts last year compared with the previous 12-month period, up 29% to 6,752, although this is significantly lower than in 2008-09 when it was 10,141.
Repossession cases usually involve a lender taking legal action against a borrower who defaults on a mortgage or loan secured on their property.
The number of eviction cases, usually involving a tenant with rent arrears, initiated in the sheriff courts fell 1% to 13,979.