MSP 'correction' rules to change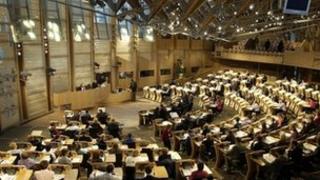 Parliament may have to be informed about MSPs who give inaccurate information in the chamber, under a rule change currently being considered.
The move came following a row over inaccurate figures on green jobs given by First Minister Alex Salmond.
Holyrood's procedures committee is now looking into proposals to tighten up the rules on corrections.
One of the reforms would look at ways to better "publicise" the fact that a correction had been made.
Currently, MSPs are allowed to correct the official report, which documents what is said in the Scottish Parliament chamber, if they give an inaccurate statement.
The procedures committee, which will look at potential options for reform at a meeting in private, heard a suggestion that parliament should also be informed of any changes.
Mr Salmond previously told parliament there were 18,000 green jobs in Scotland, but later revised the figure in its official record to 11,000.
He has used the method, which has been operating since October 2011, three times this year, but the Conservative MSP Liz Smith, who was given the original incorrect answer on green jobs, complained she was not told about the change.
At the same time, SNP members hd accused opposition MSPs of making mistakes in the chamber which they have never sought to correct.
Procedures committee convener, Dave Thompson, said there was also scope to simplify the correction policy.
He added: "I think there does need to be some mechanism where, when a correction is made, it's not just in the official report it appears, it's somewhere else as well."
The Scottish Parliament's presiding officer, Tricia Marwick, said recent comments from a number of MSPs had highlighted confusion surrounding the process.