Scottish NHS boards to receive £3m in extra winter cash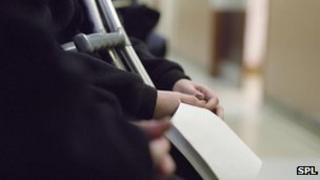 Scotland's health boards are to share an extra £3m to help them cope with the increased pressures of winter.
In the coming months, the NHS is expecting to face a rise in those suffering the winter vomiting bug, fractures and respiratory illnesses.
Health Secretary Alex Neil said the money would help make sure the NHS was "fighting fit for winter".
The money could be spent on extra out-of-hours cover from senior medics and additional home support services.
The extra government funding was announced after warnings that higher-than-normal levels of the vomiting bug could be recorded this winter.
Mr Neil said: "We know that health services face added pressure in the winter months and NHS boards have to be ready to manage potential increases in demand.
"Our health service reviews its performance each winter, with planning under way before most people have even had a chance to think about their summer holidays.
"But however much we plan, there are still extra measures that can be put in place to make sure the winter runs smoothly.
"This funding supports NHS boards to further reduce lengths of stay in hospital, helping patients get back to their homes as soon as they are ready. This will benefit the patient and help make the most effective use of resources."