Scots drink deaths fall but rates still high, says NHS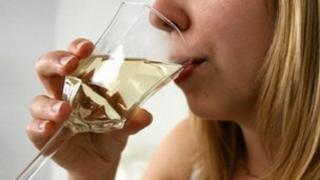 Alcohol-related deaths in Scotland have fallen, but the rate is still one of the highest in western and central Europe, an NHS report has said.
Mortality rates have come down by 25% since 2003, but were still nearly twice as high as in England and Wales, according to the publication.
And deaths linked to drink were more than two-and-a-half times higher than in the early 1980s.
Ministers have taken action to try to tackle the problem.
It included the introduction of minimum alcohol pricing, due to come into force next year, which is currently being challenged in the courts.
The report, published by NHS Health Scotland, said:
The alcohol-related death rate in 2011 stood at 21 per 100,000 of the population, compared with 22 per 100,000 the previous year
Death rates fell by 25% from a peak in 2003, at 28 per 100,000
The 2011 death rate for men was 28 per 100,000, down from 32 per 100,000 the previous year, while for women the figure stood at 14 per 100,000, compared with 13 per 100,000, over the same period
Death rates were highest in the 55-64 age group, at 60 per 100,000 of the population
Alcoholic liver disease has fallen by 28% since 2006
Reduction in alcohol-related harm coincided with a decline in the volume of alcohol sold per adult, which fell by 5% from 2009-11
Alcohol sales in Scotland 10% higher than in 1994. In 2011, 11.2 litres of pure alcohol sold per adult in Scotland - an average of 21.6 units per adult per week
A total of 20% more alcohol sold per adult in Scotland compared with England and Wales, put down to higher off-trade sales of lower-priced spirits in Scotland, particularly vodka.
Clare Beeston, principal public health adviser at NHS Health Scotland, said: "The analysis supports the well-established relationship between alcohol affordability and consumption, and some of these improvements are likely to be the result of the recession rather than permanent changes in consumption patterns, which history shows tend to reverse when the economy improves.
"It is important to ensure that Scotland continues to implement the comprehensive alcohol strategy to ensure that these improvements are sustained."
Scotland is to see the introduction of minimum pricing set at 50p per unit of alcohol, although the European Commission has descried the move as "disproportionate", while it is also being challenged on legal grounds by the Scotch Whisky Association.
Ministers have also acted to ban multi-buy discounts such as three for £10.