Labour MSP John Park to quit Holyrood for trade union post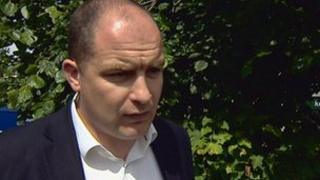 Labour MSP John Park is quitting the Scottish Parliament to take up a full-time trade union post.
Mr Park, who ran his party's 2011 election campaign, is stepping down as a regional member in Mid Scotland and Fife on 7 December.
He has taken up the role of policy and strategy director for the trade union Community.
Mr Park will be automatically replaced at Holyrood by the next Labour candidate on the list, Jayne Baxter.
Mr Park, who left school at the age of 15 to work as a trainee electrical fitter at Fife's Rosyth Dockyard, and later became a union official, said it had been an "enormous privilege" to represent the people in his area.
He added: "This is a decision that I have not made lightly and I now have the opportunity to represent thousands of workers across the UK.
"I've tried to use my time in politics to make sure the issues important to working people - jobs, apprenticeships and a living wage - are centre stage.
"Now, as workers are under attack like never before, I am returning to my union roots to fight at the coal face"
Mr Park, who became an MSP in 2007, said he wished the Labour MSPs and leader Johann Lamont the best in the run-up to the 2014 independence referendum.
Ms Lamont said: "John will be a loss to the Scottish Parliament, but I understand his reasons for stepping down and I know he will continue to play a significant role in the Labour movement."
Community general secretary Michael Leahy said: "I know this has been a difficult decision for John but I am delighted that he is returning to the trade union movement.
"His voice will be a powerful addition for our members."
Mr Park's contribution to parliament was praised by SNP, Conservative and Liberal Democrat MSPs.
His successor at Holyrood, Ms Baxter, represents the Cowdenbeath ward on Fife Council.