Scottish independence: Nicola Sturgeon outlines her vision for Scotland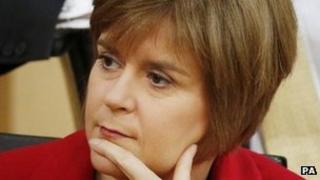 Deputy First Minister Nicola Sturgeon has told business and community leaders that her vision for Scotland is based on democracy and social justice.
She made the remark in her first major speech since becoming the government's constitutional minister.
During the address in Glasgow she said that Scotland had a democratic right to "choose her own government".
Scotland's electorate is due to vote in an independence referendum in the autumn of 2014.
Ms Sturgeon helped to negotiate the terms of the Edinburgh Agreement, which paves the way for the historic vote to take place.
During her speech, the minister said: "You cannot guarantee social justice unless you are in control of the delivery.
"And that is my central argument to you today. Not just that independence is more than an end in itself. But that it is only by bringing the powers home, by being independent, that we can build the better nation we all want.
"Bringing the powers home has to be the in interests of long term substantial change.
"Yes, we will make changes in the short term - the sensible use of borrowing powers to get our economy growing faster, for example. Or action to deal with sky-high air passenger duty that is damaging trade and tourism. Or changes to welfare reforms. But this is also about change for the long term.
"It is about ending, once and for all, the cycle of deprivation so that our people can enter a thriving economy and contribute more meaningfully to their own well-being and that of the world. "
Ms Sturgeon urged voters over the next two years to base their decision, not on how Scottish or British they felt, but on what kind of country they wanted Scotland to be.
The SNP's deputy leader said that during the next 12 months, there would be a range of "papers, speeches and events" setting out the case for independence.
'UK family'
Scottish Conservative deputy leader Jackson Carlaw said the SNP was wrong to assert that "separation from the rest of the UK" had nothing to do with identity or nationality and that "Scots could still regard themselves as British".
He added: "Scotland is already getting more powers over drink driving and air gun control and we will soon see the biggest transfer of fiscal powers for 300 years.
"Our country benefits enormously from being part of Britain.
"We are stronger economically, have more clout on the international stage and our society is richer for being part of the family of the UK."