St Andrew's Day marked by Alex Salmond and David Cameron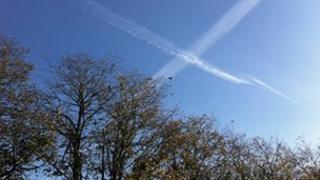 Special messages highlighting Scotland's culture and successes have been given by the first minister and prime minister to mark St Andrew's Day.
First Minister Alex Salmond said Scotland's greatest invention was universal education, during a visit to Lochgelly Primary School in Fife.
Prime Minister David Cameron said Scotland's people were its best asset.
The Saltire was due to fly alongside the Union flag above 10 Downing Street from sunrise.
Mr Cameron described Scotland as "a small country with a big heart and a big voice".
"For centuries, Scotland's greatest asset and greatest export has been its people," he said.
"Scots have helped bring peace and security to nations, made some of the world's greatest inventions and been at the forefront of international trade in every continent.
"Scots and Scotland have done so much to shape our modern world. So, this is a day for everyone to celebrate our shared history and look forward to our future prosperity together."
'Next generation'
Mr Salmond's message was recorded at Lochgelly Primary, following an invitation from a primary six pupil.
He said: "St Andrew's Day is a very special day in Scotland. A day when we celebrate Scotland's history, our people, our culture, but above all a celebration of our people.
"Scotland is proud of its history of invention and discovery. We actually invented quite a bit of the modern world, from the telephone, to television, to penicillin, to beta blockers.
"However, perhaps - actually certainly - our greatest invention of all, the one that made all of the others possible, was the invention of universal free education."
He continued: "It's fantastic to see schools like this encouraging the next generation of Scots to be inventive and creative.
"These are all deep-seated characteristics of our nation and they will be as essential to our future success as they have been to our historic achievements."
In Edinburgh there will be a carnival at Edinburgh Castle to mark St Andrew's Day.
It will tell the story of how St Andrew came to be the patron saint of Scotland and will include theatre, dance, music, projections and illuminations, followed by a short firework display.
At 19:10 a procession of local children with glowing lanterns, carnival dancers and "boat float" will leave from West Parliament Square, walking towards Edinburgh Castle to meet the revelers already on the castle esplanade.
The Carnival at the Castle performance will take place at 19:30 followed by fireworks at 19:50.