Scottish independence: Yes Scotland signs up 143,000 supporters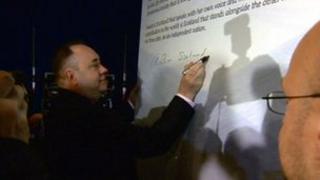 The Yes Scotland campaign has signed up 143,000 backers during the six months since promising to get a million people to support its independence pledge.
SNP leader Alex Salmond said in May that if the one million target was achieved, independence would happen.
The referendum on Scotland's future will take place in autumn 2014.
Yes Scotland's chief executive, Blair Jenkins, said the figure was a "tremendous achievement", but there was still a long way to go.
A spokesman for the Better Together group, which is campaigning to keep Scotland in the UK, insisted the majority of Scots did not support independence.
But Mr Jenkins said the figures showed "a real sense of momentum" around the country.
He added: "We have lots of people who have never been involved in politics coming to us and putting their names down.
"There is still a long way to go until we cross the finishing line in the autumn of 2014, but reaching this number of declared supporters this early gives us great confidence for a positive result in the referendum."
However, a spokesman for Better Together said claims of momentum were "a nonsense".
He added: "At this rate, they will have managed to reach their target of convincing a quarter of the electorate exactly a year after the referendum.
"If they want to sign up enough Scots to win a majority, they will still be chasing signatures in 2018.
"The reality is that the overwhelming majority of Scots are not buying what the separatists are selling."
'We shall win'
Mr Salmond, along with the leader of the Scottish Greens, Patrick Harvie, publicly signed the declaration at the launch of the Yes Scotland campaign in Edinburgh earlier this year.
It was promised the campaign would be built "brick by brick" across communities.
Mr Salmond said at the time: "By the time we enter the referendum campaign in autumn 2014, our intention is to have one million Scots who have signed the independence for Scotland declaration.
"Friends, if we achieve that, then we shall win an independent Scotland."