Scotland's college mergers plan 'will save £50m', pledges minister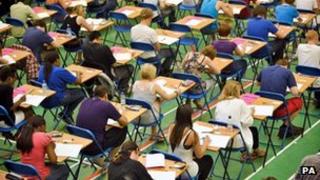 A programme of college mergers in Scotland would save the sector £50m each year, the country's education secretary has said.
Mike Russell highlighted the figure as he announced details of the Scottish government's Post-16 Education (Scotland) Bill.
However, one education union said it had "grave concerns" about the plan.
The University and College Union said powers in the draft legislation could give ministers too much control.
It worried that powers in the bill would "potentially open up all aspects of provision" for post-16 education.
The union believed that ministers could end up controlling the content of courses and therefore undermine "both the institutional autonomy of universities and the academic freedom of lecturers".
The government insisted that the bill would improve how colleges are run and ensure that courses are "suited to employers' needs".
Mr Russell said: "The bill will change the way colleges are governed and structured.
"Courses will still be delivered locally and what young people now study will give them a greater chance of getting a job because the courses, when and where they are delivered, will be more aligned to what local businesses need."
Mr Russell announced earlier this year that he wanted to see one college in each region, with each region run by one governing body.
He said this would reduce the duplication of 41 college administrations, resulting in savings while still protecting full-time places for young people.
'Shotgun marriages'
Mr Russell added: "This bill recognises the severe financial constraints we have in Scotland without full fiscal autonomy while also delivering in a time of severe cuts to our budget.
"It prioritises what matters most to the people of Scotland - the best deal for young people and the economy in terms of post-16 education."
The government has previously come under criticism from opposition parties over its handling of the further education sector and college regionalisation.
Labour said colleges were facing unprecedented levels of ministerial interference and accused the government of forcing them into "shotgun marriages".
The Conservatives warned that the legislation would "diminish the autonomy of colleges and universities" and replace it with greater powers for the Scottish government.
The Liberal Democrats also claimed "alarm bells" would be ringing about a "power grab" which could compromise the independence of the sector.
An EIS union spokesman said it was not convinced that the bill addressed existing governance problems and said the regionalisation programme seemed to be driven by "economic reasoning rather than a clear education rationale".