Fall in number of new homes in Scotland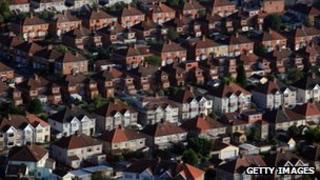 The number of new houses in Scotland fell last year, driven by a drop in the number of private homes being built, according to official figures.
The number of newly built, refurbished or converted homes dropped by 2%, from 17,267 in 2010-11 to 16,882 in 2011-12.
The number of affordable homes was down, but there was a rise in newly-built council houses.
The Scottish government said the construction industry was still being hit by the economic downturn
And ministers argued people were struggling to get mortgages and pay the high deposits on homes.
The housing figures, first published in August, also said:
A total of 15,900 new houses were finished in 2011-12, down 3% on the 16,379 completed in 2010-11. However, new starts increased by 4%, from 13,543 to 14,098.
The number of new housing association homes completed fell, but the number of local authority new build completions increased from 614 to 1,085.
The number of completed homes funded by the affordable housing supply programme fell by 5% to 6,882 in 2011-12.
At the end of March this year, there were 319,384 council houses, a decrease of 494 from the previous year.
Sales of council houses fell 17% in 2011-12, from 1,474 to 1,124, largely due to suspension of the right to buy in a number of council areas.
Councils said they had 7,847 empty property units.
Housing Minister Margaret Burgess said the number of new homes started by private sector builders in the year to June 2012 was the highest recorded since the banking crisis began in 2008. The figure was 24% up on the previous year.
And she said there had been an increase in the number of council houses, with local authorities completing 1,206 new homes in the year to September 2012 - the highest number since 1990.
Ms Burgess said: "Scotland's construction sector has faced the full force of the economic downturn.
"Times are still very tough, with high deposit requirements and reduced mortgage availability continuing to prove a barrier to recovery in the housing market.
"However, I welcome these latest statistics and hope this increased activity can spark an economic revival for the industry - every house started supports jobs for bricklayers, joiners, plumbers and the wider supply chain."
The Scottish government has committed itself to delivering at least 30,000 affordable homes during the lifetime of the current parliament, backed by £760m of investment over three years.