MSP expenses rise to almost £13m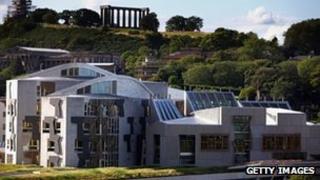 MSPs' expenses totalled almost £13m last year, an increase of 8%, according to figures released by the Scottish Parliament.
A total of £12,818,835 was claimed in 2011-12 - an increase of £969,436 on the £11,849,399 claimed in 2010-11.
However, the figure included pay-offs for the staff of 48 politicians who either did not stand for re-election or lost their seats in 2011.
Expenses rates have been frozen at 2010-11 levels until 31 March 2013.
Excluding winding up costs, the total for MSP allowances and expenses stood at £11.3m - a fall of about £500,000 on the previous year.
Orkney MSP Liam McArthur, who represents one of Scotland's most remote constituencies, claimed the most allowances - £52,878, while the smallest claim was made by Annabelle Ewing, regional list SNP MSP for Mid Scotland and Fife, whose total came to £3,459.
Elsewhere:
MSPs spent a total of £6,608.32 on hotel meals
SNP MSPs spent £3,207 on training courses for staff on how to write effective press releases.
First Minister Alex Salmond claimed £13,361 on expenses, Labour leader Johann Lamont claimed £17,831, Conservative leader Ruth Davidson claimed £20,440 and Liberal Democrat leader Willie Rennie claimed £19,738.
Party leader allowance claims fell by £1,461, from £39,829 to £38,368 in 2011-12.
Stationery and postage provision fell by £15,129, from £471,296 to £456,167.
Labour MSP Anne McTaggart spent the most on books - £141 - buying titles including Public Speaking and Presentation for Dummies, and several works on Labour politician Barbara Castle. She said they were purchased for a mentoring scheme to encourage access to politics for women.
A Scottish Parliament spokesman said: "Once election-related winding-up costs are set aside, we see a fall of more than £500,000 in members' expenses, which reflects the two-year pay and expenses freeze that Holyrood has in place.
"The parliament is on course to achieve a 12% saving over four years by 2014-15, which means its annual expenditure will be down by £9.5m in real terms."
You can search the claims made by your local MSP on the Scottish Parliament website.