Scotland's hospital doctors 'will not strike', BMA rules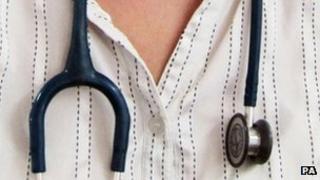 Scotland's hospital consultants and junior doctors will not take strike action next month, its professional body has announced.
The British Medical Association's ruling body made the decision after studying the results of a three-week long ballot of members.
The outcome saw consultants rejecting strike, but junior doctors backing it.
The ballot was called over UK government plans to make changes to the NHS's staff pension arrangements.
The BMA held four separate ballots covering different branches of practice in Scotland, including
consultant doctors
junior doctors;
staff associate, specialist and specialty doctors
and public health doctors.
Doctors were asked two questions - whether they were willing to take part in industrial action short of strike, and whether they were willing to take part in a strike.
Only the BMA's UK council can sanction industrial action and it met on Wednesday afternoon to discuss the matter.
Planned government reforms would mean doctors working longer and contributing up to 14.5% of their pay for their pension.
The strike days had been scheduled to take place on 12 December and 8 January and 17 January, although emergency cover would have been provided.
Members of the BMA all over the UK took part in a day of industrial action at the start of the summer in protest at changes to their pension schemes, during which doctors turned up for work but only treated emergency cases.
The BMA insisted the Scottish government had the power to introduce different pension arrangements and resolve the dispute, but ministers at Holyrood believed if they did so they would receive a reduced block grant from Westminster.
Following the association's ruling not to strike, Dr Brian Keighley, chairman of the BMA in Scotland, said: "It is clear from the ballot result that although we don't have a clear overall mandate for strike action, doctors are angry about the way the Scottish government has handled plans to change NHS pensions.
"Doctors do not understand why, when the Scottish government is so opposed to the pension reforms being led by the UK government, they are implementing aspects of them in Scotland where they have the devolved authority to do something different, primarily on employee contributions."
Finance Secretary John Swinney told MSPs at Holyrood on Wednesday afternoon that he welcomed the BMA's decision not to take strike action, adding it would be a "relief" to many.
He promised the chamber that the government "would embark on a strong and meaningful discussion" with the sector to produce a fair set of pension schemes.
Here is a breakdown of the results, issued by BMA Scotland.