Knife crime jail terms to increase in Scotland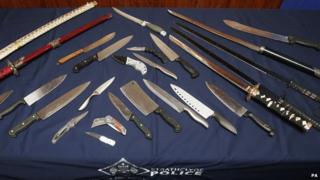 The maximum jail term for carrying a knife in Scotland will increase from four to five years, Justice Secretary Kenny MacAskill has announced.
He said the move sent a strong message that "knives cost lives".
Mr MacAskill also announced a crackdown on people released from prison who commit more crime before their original sentence has ended.
Ministers will introduce new laws to clarify court powers to impose consecutive sentences.
Opposition parties said ministers needed to do more on sentencing policy.
Mr MacAskill said the government was trying to tackle Scotland's problem with knife crime by tough enforcement on the streets, backed by education.
"The message I'd send out today is that knives cost lives, the consequences can be devastating and carrying a knife is just not worth the risk," he said.
"Our police forces are carrying out a record number of stop and searches on the streets and being caught with a knife could now land you a five year prison sentence."
Early release
The justice secretary said violent crime was at a 30-year low, there were 44% fewer weapons on the streets since 2006-07 and recorded crimes and offences committed by young people were down by 32% since 2008-09.
Labour justice spokesman Lewis Macdonald said increasing the punishment for knife crime built on the work of the previous Scottish government, adding: "There also needs to be reform of sentencing policy so that a prison sentence means what it says, and victims and communities can have some certainty about how long a prison sentence will last."
Scottish Conservative chief whip John Lamont welcomed any measure which put people off carrying knives, but argued the move on consecutive sentences would not be needed if the SNP enacted a pledge to end the automatic early release of prisoners.
"Some of Scotland's most dangerous criminals are serving only half their sentence, regardless of how they behave while inside," he said.
"If criminals were to actually serve the sentence they get handed down, they would not be in a position to terrorise communities within the timeframe of their punishment."
Liberal Democrat justice spokeswoman Alison McInnes, added: "Whilst plans to increase sentencing will send out a strong message about the consequences of knife crime, we know that prison is not a deterrent for most offenders."
Det Ch Supt John Carnochan, of the Strathclyde Police violence reduction unit, said of the government's measure: "Prevention is undoubtedly better than cure when it comes to violence - we need to try and stop the drama before it becomes a crisis, help people understand that carrying weapons and using violence to resolve conflict is wrong long before the police, the courts, the justice system have to get involved.
"However, there will always be some people who just need locking up, and today's announcement sends the clear message that knife carrying is unacceptable and those who think otherwise will be punished."
Ministers plan to make the changes under proposed criminal justice legislation, to be introduced to parliament next year.