'No plans' to merge Scottish councils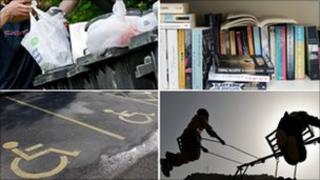 The Scottish government has said it has "no plans to merge local authorities".
It issued a statement after a Sunday newspaper reported that Justice Secretary Kenny MacAskill had said the large number of councils and health boards in Scotland was "not tenable".
He was reported to have said they should be cut as pressure grows for an overhaul of public services.
A government spokesman it was in favour of "closer service integration" and not structural changes.
The Scotland on Sunday newspaper reported Mr MacAskill told a police conference last week it was "inevitable" there would be changes to the structure of local government and health boards.
His answer was in response to a question about the move to a single police force for the whole of Scotland.
Mr MacAskill was asked if there would be any change to Scotland's 32 local authorities and 14 health boards.
He said: "The status quo is not tenable. It was not tenable in the police and it's not going to be tenable in other forms of public life."
People's needs
Earlier this year, think tank Reform Scotland called for the number of Scottish councils to be cut to 19.
It also said health and police boards should be scrapped, and their responsibility added to councils.
In response to the latest newspaper claims, a Scottish government spokesman said: ''Our approach to reforming Scotland's public services involves all relevant partners working across organisational boundaries to deliver services which best meet people's needs.
''This does not rely on wholesale structural reorganisation. It is about ensuring services are consistently well-designed and delivered by the right people to the right people.
"We are in favour of closer service integration where this will improve outcomes for local people and ensure longer term financial sustainability.
He said: "Health boards are encouraged to work with each other where appropriate - for example, we are already working to fully integrate adult health and social care in Scotland and much of the NHS procurement contracts are negotiated on a national basis. We have no plans to merge local authorities."
Scottish Labour's local government spokeswoman Sarah Boyack asked if Mr MacAskill might have "let the cat out of the bag?"
She said: "The SNP has to come clean about its plans for local government and how they will deal with the consequences of their choices.
"But given the questions that remain about the handling of the move to a national police force, Kenny MacAskill is hardly in a position to lecture the rest of the public sector about how to get the most out of scarce resources."
Scottish Liberal Democrat leader Willie Rennie said Mr MacAskill "would not have been permitted to talk about council mergers without approval from on high".
He said: "This reveals that the SNP have a desire to centralise power.
"Fiddling with boundaries doesn't address the major challenges of climate change, demographic changes and big pockets of poverty.
"The SNP need to rule out mergers and centralisation and focus on the major challenges that Scotland faces."