Scottish independence: Referendum powers order backed by committee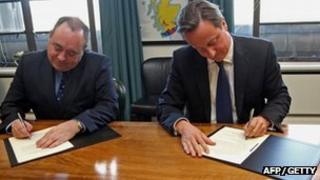 A committee of MSPs has given unanimous backing to new legal powers which would enable the Scottish government to hold the independence referendum.
A report by the Referendum Bill committee said the section 30 order should now be approved by Holyrood.
It will also be debated in the Commons and Lords before going to the Privy Council for approval, which is likely to happen in February.
The transfer of powers includes all detail relating to the referendum.
Once the order is passed next year, the Scottish government will have sole responsibility on the matter. MPs and peers will have no subsequent role in the process.
Handing over the temporary powers to Holyrood was made possible after the Scottish and UK governments signed a historic agreement in the middle of last month.
Referendum Bill committee convener, Bruce Crawford, said: "A key part of the Edinburgh Agreement is the promotion of a section 30 order. This includes certain conditions including that the referendum must be held before the end of 2014 and must give voters the choice of only two responses.
"It also makes provision for referendum campaign broadcasts and for the free postal delivery of leaflets by the Yes and No campaigns.
"The first task for this committee has been to consider the draft order, and it is with genuine satisfaction that I can report that we have unanimously recommended its approval to the parliament."
He added that the evidence heard by the committee demonstrated a "consensus of political and expert opinion" that the order would put the legality of the referendum bill "beyond effective legal challenge".
The Referendum (Scotland) Bill committee was set up on 23 October to scrutinise the legislation linked to the independence referendum, which is due to be held in autumn 2014.
Its main task will be to consider the Referendum (Scotland) Bill which the Scottish government expects to introduce in early 2013.