Scottish independence: Pro-Union group in 'devo' vision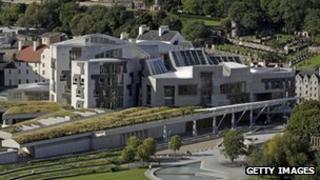 Pro-union political parties have been urged to agree proposals for a more powerful Scottish Parliament, in the event of a vote against independence.
The call came from the Devo Plus campaign as it set out how Holyrood, as part of the UK, could raise most of its own money by 2020.
The group said Labour, the Tories and Liberal Democrats should sign up to the plan before the 2014 referendum.
It argues more Holyrood powers short of independence is popular among voters.
But the SNP said only independence could help Scotland flourish.
The Scottish government budget is currently funded by the UK Treasury and many financial powers are reserved, leading some to argue that Scotland is not properly accountable for the money it spends.
The Devo Plus campaign launched its blueprint for a "new union", along with think tank Reform Scotland.
They were joined by a cross-party group of MSPs, including Conservative and former Scottish Parliament presiding officer Alex Fergusson, Labour's Duncan McNeil and ex-Scottish Liberal Democrat leader Tavish Scott.
The report said the "new union" would:
Allow the Scottish Parliament to deliver better public services and put Scotland on a stronger footing, as part of a union with the rest of the UK.
Deliver a parliament with Devo Plus powers, namely the transfer of income and corporation tax, as the "settled will" of the Scottish people.
Set up a long-term constitutional settlement to last for generations, rather than considering devolution as a "perpetually open-ended process".
The group has now urged pro-union political parties to agree to the proposals "well in advance" of the independence referendum, and include them in their manifestoes for the 2015 UK election.
Devo Plus leader Jeremy Purvis said: "We have shown that the most consistently popular way forward for Scotland is a parliament with increased responsibilities within the United Kingdom.
"We are showing how a stable and sustainable way of delivering these can be achieved within the lifetime of the next UK Parliament before 2020.
"We have also shown with our suggested Statement of the New Union, how parties and others can come together with an agreed approach that the public will understand and be able to endorse."
Responding to the report, an SNP spokesman said: "Despite the best intentions of the people involved in the Devo-plus group, the 'No' parties are refusing to set out any vision of what Scotland would look like if they got their way in 2014."