MSPs give principle backing to 'royal secrecy' information bill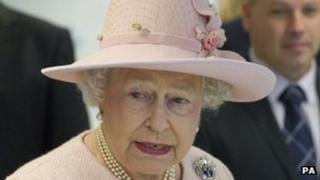 MSPs have backed the general principles of a bill that includes plans to keep communications between ministers and senior Royal Family members a secret.
The Scottish government had been urged to drop the move, under reforms to freedom of information laws.
Ministers said the change would bring the situation in Scotland into line with the rest of the UK.
But Information Commissioner Rosemary Agnew said it effectively eroded the rights of the public.
The secrecy clause was raised during a debate in parliament on the principles of the Freedom of Information (Amendment) (Scotland Bill).
At the moment, information about the Royal Family can be published in Scotland if it passes a public interest test.
Ministers want to remove that test under the proposed reforms, thereby banning any release and bringing the situation in Scotland into line with legislation in other parts of the UK.
The amendment would exempt communications with the monarch, the heir to the throne or a member of the royal household acting on their behalf.
The Scottish Parliament's finance committee, which has been scrutinising the bill, said "substantial" arguments had been made against including the Royal exemption, and urged ministers to think again.
The committee also raised concern that the use of "arms length" bodies to provide public services, which were not covered under FoI laws, meant people's right of access to information was also being reduced.
In opening the debate, Ms Sturgeon said there needed to be appropriate measures ensuring the protection of confidential information relating to the monarchy.
The deputy first minister conceded that finance committee MSPs had been "strongly critical" of ministerial plans over Royal correspondence.
'Feeble attempt'
She told MSPs: "It is the intention of the government to give very full and very serious consideration to the committee's report before determining what amendments we will bring forward."
The Scottish government had said the absolute exemption for the Queen and the first and second in line to the throne was needed to bring Scotland in line with the situation in the rest of the UK.
During the debate Labour MSP Paul Martin described the legislation as "a feeble attempt to make the government look like they are doing something" on freedom of information.
He said: "The committee have invited the cabinet secretary to remove the section that allows an exemption for correspondence with members of the Royal Family.
"The Scottish Labour Party agrees with the committee on this."
Conservative MSP Gavin Brown said there were mixed views in the finance committee about introducing the Royal exemption.
He told the chamber: "In the written evidence 12 had no view at all, 11 supported the inclusion of the Royal exemption, and 14 were against it.
"I was persuaded by some of the points brought forward by the Scottish government and the bill team at the committee."