MSPs call for inquiry as Stow College chairman Kirk Ramsay resigns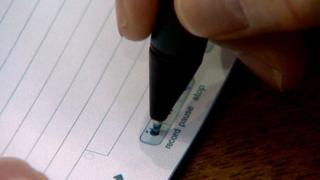 MSPs on Holyrood's Education Committee have called for an inquiry into why the chairman of Stow College in Glasgow, Kirk Ramsay, resigned.
Mr Ramsay quit after a row with Education Secretary Mike Russell over a recorded conversation on a device branded a "spy-pen".
Education committee convener, SNP MSP Stewart Maxwell, rejected the call for an inquiry.
But opposition MSPs on the committee said that was a "partisan" decision.
Labour MSPs Neil Findlay and Neil Bibby, along with Tory MSP Liz Smith and Lib Dem Liam McArthur, wrote to Mr Maxwell complaining of a "culture of secrecy, bullying and intimidation", which they said characterised the education secretary's relationship with the college sector.
They said that in light of recent events, it was "essential that the education and culture committee undertakes an immediate inquiry into this issue".
Mr Ramsay stepped down from his post at the Glasgow college on Tuesday night, blaming an "unwarranted personal attack" by Mr Russell.
At the weekend, the SNP minister called for Mr Ramsay to consider his position after a private discussion between them on college reforms was recorded.
Mr Maxwell told the BBC's Newsnight Scotland programme Mr Ramsay had used what he called a "spy-pen" as a covert recording device during a meeting with the education secretary and other college chiefs.
Mr Ramsay told BBC Radio Scotland's Good Morning Scotland programme: "I made a recording for my own purposes, to make sure all the people that needed to work with me to carry forward the minister's wishes were properly briefed and could do the best they possibly could to implement the plan that he was building up for the college sector in Scotland.
"That was the purpose of making the recording, I passed it on to a small number of people who were directly involved, chairs of other colleges in Glasgow."
The former chairman said that, as there were more than 80 college leaders and civil servants at the meeting last month, he did not see it as a private occasion.
Mr Ramsay did admit he had not sought permission to record with an electronic pen but said there was nothing unlawful about what he did.
He insisted the device was not a "spy-pen", that he had simply been taking notes and had not distributed them further than a few fellow colleagues.
Last week, Mr Russell issued a letter to others who were in attendance at the meeting expressing his concerns and informing them that their comments were recorded. He said he no longer had confidence in Mr Ramsay.
Mr Russell said there had been a "breakdown of the relationship" that should exist between a minister, someone in Mr Ramsay's position and many of their colleagues.
The minister could not ask Mr Ramsay to stand down, but the college chairman said his position had become untenable as a result of Mr Russell's "public outbursts".
The board of management at Stow College said it had received Mr Ramsay's resignation "with great sadness".
Mr Ramsay wants the Scottish Parliament's education committee to investigate the situation, but the committee convener said the facts of Mr Ramsay's case were already known.
Convener Mr Maxwell, an SNP MSP, said: "Anybody following this story would see that his position became very difficult because he secretly recorded a meeting and distributed that material to others afterwards."
The committee's deputy convener, Mr Findlay, said he was "genuinely shocked by the partisan way in which Mr Maxwell was behaving as convener".
The Labour MSP hit out at Mr Maxwell and said: "He alone has decided to block any attempt by the committee to look into this matter - this is why all opposition MSPs on the committee are calling for an inquiry into this whole affair."
Senior figure
Mr Findlay added: "I hope that Mr Maxwell remembers that his primary job as convener is to hold the SNP government to account, and not simply to defend his colleagues in the Scottish government at every turn. He should be acting in an impartial manner.
"He also has a duty to the education sector, particularly given that serious allegations have been made by a senior figure in further education, who says that there are issues of bullying and intimidation going on within the sector."
First Minister Alex Salmond backed his education secretary's position and said Mr Ramsay had been right to step down.
He said: "The problem is that someone went into a meeting and secretly recorded it. If that had been a phone conversation, it would have been illegal.
"It's not illegal to take a recording device into a meeting - it is unethical, certainly."