'Spy-pen' Stow College chairman resigns after 'personal attack' by minister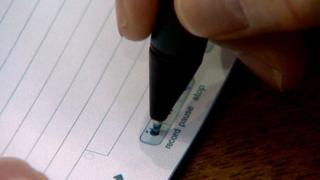 The chairman of Stow College in Glasgow has resigned after a row over a recorded conversation on a device branded a "spy-pen".
Kirk Ramsay is stepping down, blaming an "unwarranted personal attack" by Education Secretary Mike Russell.
At the weekend, the SNP minister called for Mr Ramsay to consider his position after a private discussion between them on college reforms was recorded.
Mr Ramsay has called for a parliamentary inquiry into the matter.
Education committee convener Stewart Maxwell rejected the call and told the BBC's Newsnight Scotland programme Mr Ramsay had used what he called a "spy-pen" as a covert recording device.
First Minister Alex Salmond later said the former chairman's actions had been "unethical".
Mr Ramsay told BBC Radio Scotland's Good Morning Scotland programme: "I made a recording for my own purposes, to make sure all the people that needed to work with me to carry forward the minister's wishes were properly briefed and could do the best they possibly could to implement the plan that he was building up for the college sector in Scotland.
"That was the purpose of making the recording, I passed it on to a small number of people who were directly involved, chairs of other colleges in Glasgow."
The former chairman said that as there were more than 80 college leaders and civil servants at the meeting last month he did not see it as a private occasion.
Mr Ramsay did admit he had not sought permission to record with an electronic pen but said there was nothing unlawful about what he did.
He insisted the device was not a "spy-pen", that he had simply been taking notes and had not distributed them further than a few fellow colleagues.
Last week, Mr Russell issued a letter to others who were in attendance at the meeting expressing his concerns and informing them that their comments were recorded. He said he no longer had confidence in Mr Ramsay.
On Tuesday, during question time at Holyrood, Scottish Labour's education spokesman, Hugh Henry, accused Mr Russell of "bullying" and called on him to apologise to Mr Ramsay.
Mr Henry said: "Many staff in education and further education have contacted me to say that they are frightened to speak out about the way that the cabinet secretary is treating them.
"Surely the way that he has behaved to Mr Ramsay reinforces their fears."
'Relationship breakdown'
Mr Russell said there had been a "breakdown of the relationship" that should exist between a minister, someone in Mr Ramsay's position and many of their colleagues.
He added: "The Scottish government believes that the college sector, like any other, needs to be led and governed by people of the highest quality and standards."
Mr Russell cannot ask Mr Ramsay to stand down but the college chairman said his position had become untenable as a result of the minister's "public outbursts".
The board of management at Stow College said it had received Mr Ramsay's resignation "with great sadness".
Keith McKellar, acting chairman, added: "We accept that, in the circumstances, it is the honourable thing to do.
"It is typical of Kirk to put the college, its students and staff first and, by resigning, at this time he has, once again, shown his commitment to Stow College."
Mr Ramsay wants the Scottish Parliament's education committee to investigate the situation, but the committee convener has said the facts of Mr Ramsay's case were already known.
Convener Mr Maxwell, an SNP MSP, said: "Anybody following this story would see that his position became very difficult because he secretly recorded a meeting and distributed that material to others afterwards."
First Minister Alex Salmond backed his education secretary's position and said Mr Ramsay had been right to step down.
He said: "The problem is that someone went into a meeting and secretly recorded it. If that had been a phone conversation, it would have been illegal.
"It's not illegal to take a recording device into a meeting - it is unethical, certainly."