Doran Review calls for special needs education reform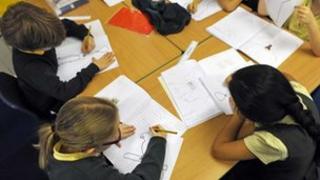 A report commissioned by the Scottish government has been highly critical of the standard of education for some children with complex special needs.
The Doran Review said pupils may have a poor experience at school because staff lack basic training and understanding of how to meet their needs.
The report suggested reforms including more training and a register of staff with appropriate skills.
The government said implementing the recommendations "will be challenging".
In the early days of the Scottish Parliament, MSPs passed legislation designed to create a more inclusive society.
As a result many more children with special needs are now able to go to local mainstream schools instead of having to travel to special schools.
The Doran Review was set up to consider whether the current system is achieving the best possible outcomes for Scotland's children and young people, and recommend any improvements necessary.
Other findings included parents perceiving that some organisations have lost sight of their primary responsibility to the community they serve and appear self-protective and defensive - a trend linked partly to scarce resources.
A total of 21 recommendations were set out in the report, which concluded with an emphasis on the need for "an easily accessible route to early integrated assessment of, and provision for their complex additional support needs from the earliest stage of development".
Report author, Peter Doran, said: "The recommendations of the review focus on how we can continue to develop capacity within the whole system of services and supports upon which children and young people and their families rely.
"Capacity is more than buildings and expensive resources; it is also about the expertise, values and attitudes that make a real difference to the experiences and outcomes for children and young people.
"The difficulties faced in the implementation of recommendations are not underestimated. Complexity can however be used as one of many reasons for doing nothing, moving too slowly to change or not fully including those who use and depend on services."
Minister for Learning Dr Alasdair Allan said the review "sets out a compelling vision and recommendations that will drive us forward".
He added: "The report emphasises that the services that allow those opportunities to be accessed need to be inclusive, efficient, equitable and effective in meeting need.
"In addition the presumption of mainstreaming remains, although we are clear, as reflected in the legislation, that for some children and young people their needs will be better met in specialist provision rather than mainstream schools and where this is the case that exception will continue to apply."