'Review needed' on reoffending, says Audit Scotland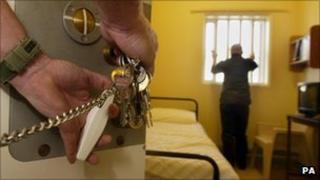 The Scottish government must re-think its strategy to tackle criminal reoffending, the spending watchdog has warned.
Reconviction rates have stayed "relatively static" in the past decade and 30% of offenders are reconvicted within one year, said Audit Scotland.
In a new report, the organisation said the funding set-up was "inflexible" and stronger leadership was needed.
Ministers said reconviction rates were at their lowest in 13 years.
SNP ministers have been trying to cut reoffending, with policies like non-custodial community sentences and a presumption against jail terms of less than three months.
Audit Scotland said:
Reoffending rates have been relatively static, with 30% of those convicted in 2009-10 committing another crime within a year, compared with 32% in 1997-98.
In March this year, 2,500 prisoners had served more than 10 previous prison sentences, while almost half of those - 1,186 - served more than 25 jail terms.
The proportion of offenders serving sentences of six months or less fell 17% between 2002-03 and 2011-12, but there was also a 50% increase in people serving sentences of between six months and four years.
The Scottish Prison Service, government and community justice authorities spent £419m in 2010-11 dealing with people convicted in court and less than a third of this - £128m - was spent on cutting reoffending.
The prison population continues to increase.
The costs of reoffending run to about £3bn a year.
The report stated: "There is a strong body of evidence on what is effective in reducing reoffending, but this is not being used consistently to design or commission services.
"There is a mismatch between what is currently being delivered and what is known to be effective."
Scotland's auditor general, Caroline Gardner, said: "The Scottish Government needs to review how offenders are managed in the community.
"The government, the Scottish Prison Service, community justice authorities and councils need to improve how they plan, design and deliver services for offenders, and make sure they're based on evidence of what works."
The spending watchdog's report said community justice authorities, set up in 2007 to fund and monitor services, had struggled to achieve their role of improving joint working, adding: "The current funding for criminal justice social work is inflexible and does not encourage reducing reoffending."
The report, which focussed on what happens to adult offenders sentenced in court, also stated: "Stronger leadership is required if the level of reoffending is to be significantly reduced."
In the wake of the report, the convener of the Scottish Parliament's audit committee, Iain Gray, said investigations had to take place as to whether the £128m spent on cutting reoffending was making a difference.
Effective programmes
The Labour MSP said: "We've therefore asked the Scottish government to appear before our committee to set out what evidence it has that its current approach to reducing re-offending in Scotland is working."
Liberal Democrat justice spokesman Alison McInnes said: "The SNP government should be ashamed of its paltry track record on reducing reoffending rates."
Labour's Lewis Macdonald, added: "It is worrying that effective programmes are not being implemented and the SNP need to get a grip."
John Lamont, the Scottish Conservative chief whip John Lamont stated: "The Scottish government knows what works to reduce reoffending, but the money is not being targeted towards effective programmes and there has been no assessment of the performance of our criminal justice authorities."
Responding to the report, a Scottish government spokesman accepted reoffending rates had been "unacceptably high" over the last decade, but added the concerns raised were already being addressed.
He went on: "The reconviction rate in Scotland has varied over the last decade and in recent years, it has been decreasing.
"Reconviction rates in Scotland are now at their lowest level in the past 13 years and recorded crime now stands at a 37-year low."
The spokesman added: "We will not be able to reduce reoffending overnight, and it will take time, effort and commitment on the part of all of those involved in the field."